A few years ago, it was hard to talk about enterprise technology without quickly running into the phrase "digital transformation." Today, there's a new phrase making the rounds: data-driven. Organizations have been more and more focused on data since "Big Data" was a trendy buzzword in the middle of the last decade, and that focus is reaching a fever pitch.
Why is data so important to business today? Simply put, poor data management or insufficient data analysis is impacting the bottom line. Organizations have been collecting data, but there has typically not been a comprehensive operational approach or a focus on the necessary skills.
This has led to abundance without intelligence. Most companies have data silos in every department, limiting the ability to build a holistic view of corporate data. Data is streaming in from new sources, such as social media and smart devices, but there is no structure for translating this data into business decisions. Although there is a profusion of historical records, there is a clear shortage of expertise in using these records to build future plans.
As they try to build the right expertise, companies are discovering that the problem goes deeper than they might originally have guessed. The ultimate goal for most companies is data analytics, finding new insights from their data to help understand the past and predict the future. Unfortunately, most firms do not have solid processes around data management, and there are also disconnects between technical efforts and business objectives.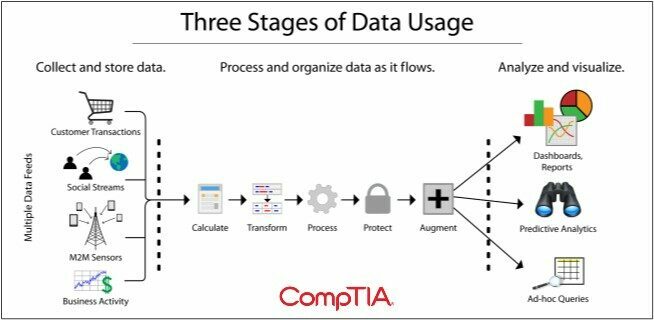 A good way to understand the scope of the problem is to take a comprehensive view of how data flows through an organization. Breaking overall data activity into three foundational stages allows businesses to ask pertinent questions:
Where does our data come from?
How quickly do we want to process different data streams?
What insights need to be provided as the data is analyzed?
Digging into these questions helps companies understand the technical challenges involved in modern data management and analysis.
The comprehensive view will inevitably lead to skill gaps that need to be filled. For a large organization, multiple skill gaps may be filled by multiple specialists. There could be database administrators responsible for implementing data architecture and performing initial processing. There could be data analysts that mine the data, find patterns, and report the analysis to decision makers. And there could be data scientists who are responsible for building complex models based on the underlying patterns and the strategic direction of the business.
For smaller companies, though, building an army of specialists is probably not practical. The more likely approach is to focus on the role that meets the ultimate objective—the data analyst. This analyst might have to work on the infrastructure pieces as well, but then they would have the skills to transform the data into actionable outcomes.
CompTIA's Data+ certification validates these skills that are quickly becoming critical in the digital economy. While the main focus is on the second stage—manipulating data and providing analysis—there is also an infrastructure component. This verifies that a candidate understands common data structures and formats, and that knowledge can be used to build a basic architecture, especially in a cloud environment where many tools are provided as a service.
In addition, the CompTIA Data+ certification is useful for candidates coming from either a technical background or a business background. Depending on the organization, a data analyst may have more affinity to either the IT function or a business unit, so being conversant on both sides is a must. The Data+ certification proves that job candidates have this balance while also ensuring that they can implement data governance for a robust process.
In the data field, time is of the essence. Companies have massive amounts of data—now the question is what to do with it? The ability to rapidly and effectively analyze data can improve time to market, enhance customer satisfaction and drive growth for the future. Taking a comprehensive view of corporate data and building data specialists will accelerate this process. As organizations place a priority on speeding up data analysis, they should also place a priority on speeding up skill discovery and development.
If you enjoyed this article and want to receive more valuable industry content like this, click here to sign up for our digital newsletters!