After the 2016 election, Matt Dunne, the former head of community affairs for Google from 2008-16, launched the Center on Rural Innovation (CORI). Now, a year later, Dunne hopes to use CORI to build a network of "innovation hubs" across rural America, according to VentureBeat.
The idea for CORI came to Dunne after he realized the big five tech companies (Amazon, Apple, Facebook, Microsoft, and Alphabet) were tailoring tech job opportunities to more communities outside of Sillicon Valley, such as metropolitan and suburban areas. However, he saw that rural areas were still being looked over; this, says VentureBeat, is adding to the accumulating loss of jobs in the country's rural communities. As a result, Dunne created CORI – an organization that seeks to create a scalable model for rural economic development.
According to VentureBeat, Dunne's goal for CORI is to create a network of "innovation hubs" across rural America: "Each innovation hub would contain a coworking space for entrepreneurs and remote workers, loft apartments, and restaurants, shops, or other cultural establishments. Additionally, they will come equipped with fast, reliable broadband, and will offer workforce training and mentorship programs."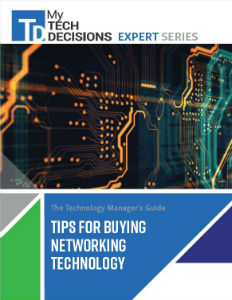 Looking to purchase the perfect networking technology for your organization at the best price? Download our FREE guide to learn how to write a network technology RFP, choose network technology partners, and implement network technology.
Tips for Buying Networking Technology
With these assets, CORI's goal network would encourage more entrepreneurship in rural towns, and ultimately generate more opportunities for remote work for job seekers living in those communities.
"Rural economies are not going to be solved simply by having an innovation center in one building — it's about maximizing the potential of the workforce," Dunne told VentureBeat in an interview.
Decision makers in the business industry might be experiencing similar phenomena – their employees' might be expecting more opportunities to work remotely, even from home, to work more collaboratively with their peers, thus creating a shift in workplace culture. If this is the case, decision makers might be able to continue their company's success by following a path similar to Dunne's, by supporting the changing work culture and environment. Doing so would amplify employees' happiness and loyalty to the business, and generate productivity. It would also keep decision makers' thought processes and the overall business model up to date, relevant, and ready for the next generation of workers who might have similar expectations in their workplace.