As of 2019, the flexible workplace trend has taken over less than five percent of the U.S. office market, according to a report from JLL. But that same report predicts the number will skyrocket to about 30 percent in ten years.
The way people work is evolving, which  comes as no surprise to tech decision makers who have seen their organizations migrate away from traditional heads-down workspaces situated around an imposing conference room to a more collaborative, flexible workspace environment with huddle rooms and content-sharing capabilities.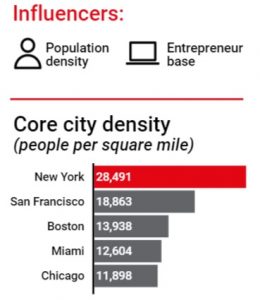 But which parts of the U.S. office market are driving adoption? The JLL study evaluated 25 economic, demographic, and market variables to see which cities are most prone to adopt flexible workplace technology.
New York
This no-surprise city is already home to the largest inventory of flexible space in the country, says JLL.
This is likely due to the fact that it is also noted in the study as "the nation's highest concentration of freelancers and small businesses, and its creative workforce bolsters the city's position as a world-leading entrepreneurial economy."
The entrepreneurial spirit isn't the only business-minded asset New York City is noted for: the JLL also finds a high rate of new office space under construction. All those new spaces will be primed for adoption of newer technology.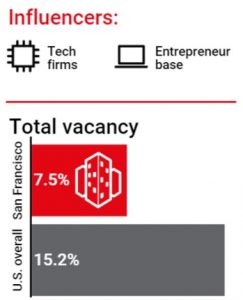 San Francisco
The city is a noted tech hub, but that's not the only reason it sticks out as a continual flexible workspace adopter in the U.S. office market.
"The volatility and rapid pace of activity in the tech sector, combined with exceedingly limited options for tenants, provides an ideal environment for coworking and incubator-style flexible space offerings," says the JLL report.
Sporting a 9.8% population growth, San Francisco is also one of the most dense populations which continues to attract talent in spite of high housing costs, the study notes.
"San Francisco currently ranks sixth among U.S. markets in terms of existing flexible stock, with just over 2.7 m.s.f., suggesting strong growth potential ahead and low risk of oversaturation," says the report.
Silicon Valley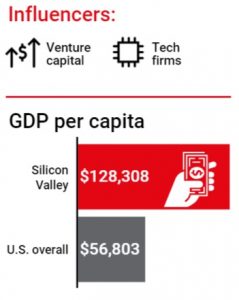 Another no-surprise entry, Silicon Valley is ripe with merger & acquisition activity in sync with tech adoption.
"A pair of full-building leases in Mountain View totaling nearly 500,000 s.f. highlight the appeal of large-block flexible space options for major tech firms, some of whom are in the midst of major expansions and reshuffling," says JLL.
Lease liability plays a factor, too, since venture-funded organizations typically hope to avoid that as much as possible.
Finally, the high cost of leasing is the ultimate motivation for Valley-area businesses to transition to smaller, denser setups with wider, more efficient tech adoption.
Austin
Austin wants to keep itself "weird" … but it also keeps itself busy with building more and more new office spaces. New buildings cap about 10% of the overall demand for space, says JLL.
Comparatively low costs of living and doing business relative to gateway and other large geographies, along with a widely publicized arts and entertainment scene, will keep attracting younger residents to the market, catalyzing further expansion of coworking flexible workspace. — JLL
The study notes that Austin is a "spillover market" for West Coast tech companies, providing the corporate U.S. office market a valuable location for managing a fluid workforce.
Of course, "the ability to rapidly expand and accommodate short-term space needs makes Austin a prime destination" for flexible workspaces, says JLL.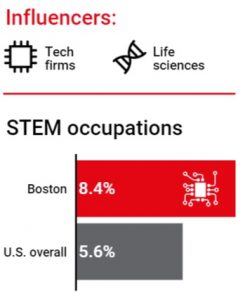 Boston
The challenge Boston has faced as its economy progresses more and more towards tech is centered around tenants searching for flexible workplaces to manage sudden growth.
"Boston ranks the lowest among U.S. gateway cities in terms of percentage of inventory that's allocated to flexible use, which suggests a strong runway ahead," says JLL.
This city — chalk full of higher educational institutions and young workers starting their careers — is coworking-friendly and will likely continue to be a sought-after area for companies to expand in.