Many businesses have used on-premise UC systems for their relatively low cost and ease of control. But after a global pandemic, cloud strategies are changing, and organizations who hadn't yet embraced cloud communications started floundering.
At Enterprise Connect 2020, Melissa Swartz, Founder of Swartz Consulting, provided a cloud strategy framework to provide an answer to the problems faced in a pandemic-struck business world.
This roadmap will help you determine what your cloud strategy should accomplish, focusing specifically on understanding the differences between quick-response and full-scale solutions; evaluating rapid-response solutions; understanding financial impacts; and weighing out the pros and cons of moving fully into a cloud vs. a hybrid deployment.
Free license softwares are expiring and it's time to decide whether the quick-response solution is the right path going forward.
Problems with a tools approach:
disjointed reporting/mismatched data
user confusion/which tool for what?
finger pointing
Communication technology platform benefits:
consistent data source for analytics, reporting
consistent user interface, less need to change tools
integrations done for you by supplier
centralized admin/security
Evaluating rapid response solution for the best choice going forward:
document
identify gaps
discovery
DOCUMENTING: With the new processes created during pandemic transitions, what did you learn? What worked well? What was challenging? Common issues? Did you create any new processes or new tools? Do you need to create FAQ documents?
Think through what has changed in your environment and what impact those changes will have.
IDENTIFY: Are there any training or feature gaps? How about process or policy gaps? What processes did you create to get people working remotely and did existing technology help or hinder the change?
DISCOVER: Will your existing tools work, or do you need a platform? What "nice to haves" are now "must haves"? Are things like desk phones necessary anymore? Are people happy with how they do their work?
Analyze your cost items: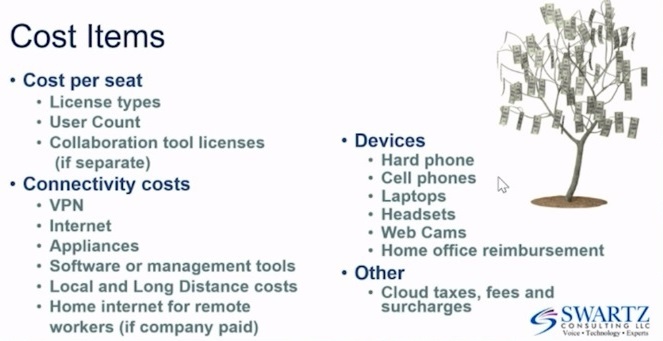 Potential budget 'gotchas!' 
contact center
call recording
infrastructure upgrades like VOiP transitions (cabling, switches, UPS)
cloud taxes, fees, surcharges (get an actual bill from the surcharger to see all the fees involved)
decommission and cleanup
multi-year projects may not be funded in a year
Potential savings opportunities: 
what can you disconnect/eliminate?
SIP trunking/centralization
eliminate external conferencing services
reduce travel between sites (use video conferencing)
network savings with VOiP  (cabling & infrastructure savings)
retraining people
Full cloud vs. hybrid systems
Pros of a cloud strategy:
provider handles server management, uptime requirements, bandwidth worries, security and compliance
there's no need to keep multiple components in sync with versions and upgrades to "keep the plates spinning"
providers take care of integrations
AI capabilities are cloud focused
no data center space required
Related: Need to Know: Cloud Environments
Cons of a cloud strategy:
lack of control, especially surrounding security and upgrades
best of breed options may be limited with platform architectures
subscription pricing can cost more in the long run
a lack of support for legacy apps and workflows
no true analog support
Hybrid or Premise pros:
control over direction, security, compliance, etc.
sweat the assets, add capabilities as needed
support for legacy apps/workflows
analog support
Hybrid or Premise cons:
integration and finger-pointing issues
skills and resources required for server, uptime, bandwidth management, compliance, and security requirements
must keep multiple components in sync with upgrades to "keep the plates spinning"
AI is cloud-first
lack of flexibility
requires data center space
If you enjoyed this article and want to receive more valuable industry content like this, click here to sign up for our digital newsletters!