As a technology manager, purchasing technology for the office throughout the year can often be a thankless task. If you're not outright getting blowback from employees that don't want to switch away from the system they've been using for years, you're getting lackluster responses from employees much less invested in the audio system you've put into the conference room than you are. They just want it to work and don't really care about all of the intricacies and work that went into installing it. They don't look at a new system as a gift, just as another piece of equipment.
The holidays are a time to spend a little extra to get something you might not need as much as you want. That's the whole point. We're not spending our own money, so why not splurge a little bit and get gifts that will really bring a sense of joy to the recipients. The holiday season is all about giving, so let's give our office something it can really have some fun with!
This holiday season, why not give them something they'll be really excited about? Your laymen employee isn't going to care much about the storage devices you've purchased on premise, but give them a way to listen to music easily throughout the workday and they'll be ecstatic. You'll go from being the forgotten technology guy or gal to the coolest person in the office and all it will take is a piece of your budget.
So the question becomes what to get the office. How do you choose a single gift that is going to make dozens of people that come in and out of the office each day happy? It won't be an easy task, and you'll need to lean on your own knowledge of the work staff to make a decision. However, we've created a list of ideas that could improve any office.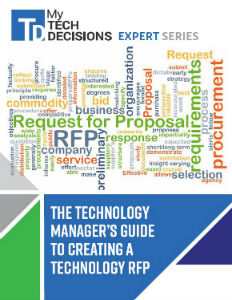 This new guide will show you how to structure your RFP so you get the maximum return on investment for your budget.
The Technology Manager's Guide to Creating a Technology RFP.