It is at the very beginning stage of an installer-enterprise partnership that companies decide to construct and send out a technology RFP (request for proposal).
When a company is in need of a technology installer to come in and design or install a new system, the process of finding the right firm can be daunting. Depending on the complication of the build, choosing the right firm could mean choosing a partner to work with for years to come. The firm needs to have the right system in mind, they need to understand the needs of the company and the end users that will use the system, and they need to complete their work with certain quality, monetary, and temporal constraints.
A request for proposal, in essence, communicates to installers the expectations that a company has for a system that they need. A technology RFP can include a range of different specifications, from exact number of items that will be needed, to specific design necessities, to general operation requirements with little or no information on how those requirements will be met.
If you have no idea what you need in order to design a system, then calling an integration firm and speaking with them can always get you started. However, a technology RFP isa great way to set expectations for the project.
The Basics
There are two basic types of technology RFPs: those with prescriptive based specifications, and those with work results based specifications.
DO
Make sure the end user checks the RFP before it is sent out.
Take a look at sample documents that many integrators will provide.
Find out if the company is capable and qualified by asking for referrals.
Open yourself to a higher tier of integrators by mentioning you are looking for: a partner, experience, an understanding of workflow, history installing similar solutions, history working with companies of similar size.
Include whether union or non-union workers will be required. Note that requiring trained, certified staff will welcome a higher degree of integrator.
Interview the firms and hold them accountable for answers.
Include the time frame the build will need to be finished within.
Prescriptive technology RFPs are itemized, detailed, and extremely specific. Often these RFPs will already have a design in mind, and the integrator's role will be to implant the system in exactly the way that it has been specified. These RFPs include specific products that will be used in the build, as well as how many of each item will be needed. They have detailed design drawings that will be used to create the system. These RFPs are created by technical savvy personnel within the company or, more often, outside consultants that have been hired to create the technology RFP.
Then there are the less informed end users that don't have the knowledge to design their own system, or the capital to hire a consultant on top of an integration firm. "My advice to them is that if they're not technical, don't try to be technical," says Chuck Wilson, Executive Director of the NSCA. "Just focus on performance and work results."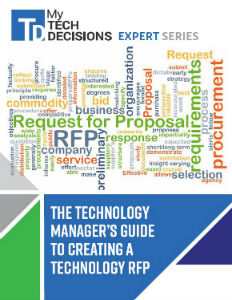 This new guide will show you how to structure your RFP so you get the maximum return on investment for your budget.
The Technology Manager's Guide to Creating a Technology RFP.
Work results RFPs focus on what the system will do. They don't include specific products or a design because that is what they want the integration firm to decide for them. Instead they focus on expectations for the build. Explain what the system should be able to do, how it should be able to work with the systems that you already have in place, and what type of training will be required once the system has been installed. Finally, make sure to have the end user that will be interacting most with the system look over the RFP before sending it out. This will ensure that all needs are met.
"The end user doesn't even really need to know the equipment," says Kevin Rand, Audio Visual Technology Sales Consultant for Red-Thread. "They just need to know a basic scope or basic functionality they're looking to achieve in their spaces. If they know that, we can walk them through the proper questions, and then we'll design the system around that."
The Structure
When structuring your technology RFP you want to include three major sections: general requirements, products, and expectations.
"Be as specific as possible, that's what you're trying to accomplish with the technology RFP," says Wilson. "Be specific about what type of training you need on the system, how you want it to work, if the project needs to be done after hours or during the workday, if it's a retrofit. There's a lot of things that get missed."
Start your technology RFP with general requirements, which cover a range of specifications. You want the firm to be bonded, to be insured, to operate by certain specifications or codes. You want the firm to pay their people worker's comp in case they are injured. You don't want people to run amok in the office, you want the firm's employees screened, background checked, and drug tested because that is your company's policy. You want to pay them in progress payments. You need them to finish in six weeks. Any specifications outside of the design should be explicit in this section to weed out firms that don't meet your requirements.

The product section should consist of what will be needed for the build, and display the design of the build itself. What type of system will be installed, how many microphones are needed, how many screens are needed, where each item will go, etc. As mentioned before, this can be handled by a consultant before sending out the RFP. Do not fret, however, it is extremely common to say that the company expects the integrator to come back with a parts list or to depict what the good/better/best solutions will be, and what the integrator thinks is needed.
The expectations section will describe what the system should be able to do, and how it should be able to work within the company. For example, we'd like it to do this, and to do that, and to work 24/7, with no bottle necks or choke points in the system, and have it be seamlessly integrated to our previous network, etc. Let the integration firm know what the final design needs to be able to do, so that your purposes are fulfilled at the end of the build.
The Send and the Return
When your technology RFP is complete, you need to decide which firms to send it to. This can be a difficult decision. If you send it to too many you risk integrators hearing about it and backing out for fear of doing the work with no return. If you don't send it to enough you risk missing out on the right system. Do your research. Precedence goes to firms in the area that can help out down the road, in emergency situations. Ask companies of similar size and magnitude in your area who they have gone with in the past. Ask the architects and engineers on your team who they have good relationships with. Referrals will narrow down the field to several that have good histories and design good systems.
DON'T
Send RFP to a large number of integrators for fear of scaring them away.
Include obsolete technologies in your product section.
Choose your integrator before giving out RFPs. This will cause other integrators to spend less time on their proposal.
Send in a design made by a competitor, otherwise integrators will walk away.
Include a large amount of products with no design. Integrators will assume they are designing a system that will be given to a competitor.
Include incomplete equipment lists, drawings, and details.
Go for the lowest price immediately, without properly vetting the design.
Often, if there is not enough information included in the technology RFP or if the integration firm needs questions answered or portions cleared up, they will send a request for information (RFI) back to your company. This will outline the rest of the information that is needed for them to design a build. Answer their questions until they are satisfied, and eventually you will be able to move on to the next step; the integration firm will send in their proposal.
"Everything they ask for, we give them," says Mike Hester, owner of Beacon Communications. "How it operates, references, the design, the return on investment, the cost of the system over time. When you're responding to an RFP, what you're trying to do is reach quite a few different folks that, unfortunately, you can't meet with one on one. What we try to give them is everything they might think of or ask for. What we want to show them is just how thorough we are."
The proposals will include different solutions, different products, and different price points. Don't just go with the cheapest system. Sometimes firms will try to sell you a sub-par system at a cheap price in order to win your business. However, these designs often don't include training, technical expertise, emergency response, etc. So when your system breaks down a year after the install, the integrator is nowhere to be found. That doesn't mean the most expensive option is best either. There are companies that will have deals with certain vendors and try to push their products, even if others are a better fit for the system.
The Decision
Sending out a technology RFP doesn't so much decide who will build the system as it weeds out which firms are not a good fit. When it comes down to it, you're not only choosing a system, you're choosing a partner for as long as the system is in place. You need to make sure that the integrator you choose is going to work well with your company and your team.
Narrow the proposals that you receive down to the most detailed and impressive designs. Choose two or three integrators that you think will provide you with a viable system. Ask for referrals and do your research to ensure that they have had good working relationships in the past. Finally, invite them in to meet with your team and pitch their idea. Ask them questions and hold them accountable for the answers. Treat it like a job interview and pick the integrator that will deliver the best results while fitting in with your company's philosophy.
At the end of the day, you are going to choose the firm that works best with you and provides a viable, affordable solution. Only by meeting with them and asking questions can you decide who is best. A request for a proposal, if done right, will get the right firm in front of you. From there, go with your gut.
If you enjoyed this article and want to receive more valuable industry content like this, click here to sign up for our digital newsletters!