Many experts have long suggested that urban farming could be the answer to a number of problems surrounding food shortages around the world. Typically it involves growing crops in hydroponic greenhouses on the rooftops of buildings in major metropolitan areas or in vertical farms that span several stories of high rises. Urban farming means less travel for the crops – resulting in fresher produce at lower costs with less emission from transportation. The idea is that you're growing the crops in the same place that the people eating them live.
The problem at present is that there isn't enough evidence to suggest that urban farming is actually having the intended impact. According to CityLab:
But while it makes intuitive sense that growing crops as close as possible to the people who will eat them is more environmentally friendly than shipping them across continents, evidence that urban agriculture is good for the environment has been harder to pin down.

A widely cited 2008 study by researchers at Carnegie Mellon University found that transportation from producer to store only accounts for 4 percent of food's total greenhouse gas emissions, which calls into question the concern over "food miles." Meanwhile, some forms of urban farming may be more energy-intensive than rural agriculture, especially indoor vertical farms that rely on artificial lighting and climate control.
However, a new study utilizes big data in order to make a case that widespread urban farming could have the desired impact after all.
The study used Google's Earth Engine software along with a number of datasets to determine that urban farming could produce 180 million metric tons of food per year. It looked at information associated with improving the ecosystem in order to determine that urban farming could be worth $160 billion globally each year. The study went so far as to use satellite imagery to analyze where urban farms are already built and where they could be built – including roofs, vacant land, and vertical farm locations.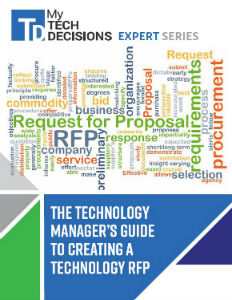 This new guide will show you how to structure your RFP so you get the maximum return on investment for your budget.
The Technology Manager's Guide to Creating a Technology RFP.
What they learned was that urban farming could provide up to 15 billion kilowatt hours of annual energy savings worldwide if fully implemented. It would also produce 170,000 tons of nitrogen and prevent 57 billion cubic meters of storm water runoff pollution.
Why does this matter to tech managers? Outside of the worldly benefits, this study clearly indicated why big data and business intelligence is so important to any organization. As Robert Costanza, professor at Australian National University and cofounder of the International Society for Ecological Economics said to CityLab:
Costanza said he would like to see the researchers' big data approach become standard in urban planning, as a way to determine the best balance between urban infrastructure and green space—whether it's farms, forests, parks, or wetlands. That is the researchers' hope as well, and they've released their code to allow other scientists and urban planners to run their own data, especially at the local level.
With a small amount of data it seems that urban farming would not produce enough benefits to be worthwhile. However, digging into the information further revealed a number of beneficial and profitable potentials for the practice. The study used big data and intelligence to dispute something that was incorrect because the full picture wasn't available.
Big data allows us to see the full picture. It removes bias, preconceptions, and hearsay and produces actionable facts. You're a technology manager at a company and you wish to install a new technology. Imagine if you used big data to demonstrate that the technology will lead to increased profits, reduced time, or both. You'll get the budget you need for the technology you want. Or maybe you'll learn that you're wrong about what you think you need, and save yourself the headache and embarrassment of being wrong about the technology.
Urban farming is an important practice that could have major impacts on the world. However, it will never get there without the big data and business intelligence demonstrated in this survey. How can you use big data and intelligence to improve your own organization?