AVI-SPL, the largest integration firm globally, knows a thing or two about the future of the workplace. At Boston's Fenway Park on May 23rd, the company held TechXchange – an event that aimed to impart some knowledge about the subject on a group of manufacturers and end users. In a suite overlooking the home of the Red Sox, John Zettel, CEO of AVI-SPL, explained just why this subject is so important for the company and its customers.
"It's grounded on creating meaningful experiences at your workplace," says Zettel. "AVI-SPL is uniquely positioned to understand what experiences are. As the world has become more digital in nature, and as the workforce is becoming younger, they're looking for those experiences in the workforce. We provide experiences at all levels."
The flavor of the day was experience – particularly the experiences that a younger, millennial workforce expects and seeks when considering their careers. In fact, as Amanda Kross, Senior Vice President of Workplace Strategy at Jones Lang Lasalle, pointed out during her presentation at TechXchange, the desired experiences of the digital workforce are so strong that they're reshaping the entire commercial real estate landscape.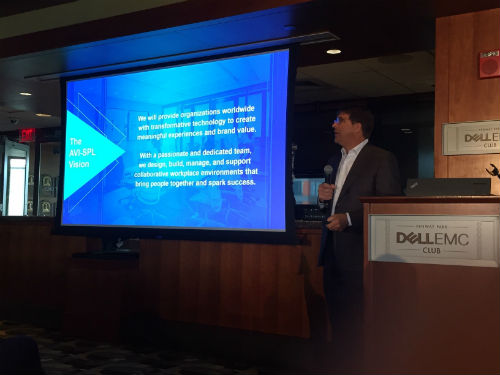 "We're at this point in real estate where it is changing incredibly rapidly, and it's not going to go back to the way it was," says Kross. "There's a convergence in technology, the shared economy, and the way we're all thinking about resources that is completely reinventing the way we're looking at space, corporate real estate, and how we create experiences for employees."
JLL conducted a study in 2015 to understand what corporate real estate executives are looking at, and where their priorities are, when it comes to their services. The study found an uptick in workplace technology, experience, and change management. Why? Kross points to a number of statistics to create that story.
By 2020, 80% of the world's adult population will own a smartphone
By 2025, over 50% of internet traffic will come from IoT and sensors
By 2030, 30% of corporate portfolios will comprise of flexible space –i.e. coworking, incubator, and accelerator spaces
By 2020, 43% of the US workforce will be liquid (freelancer)
10% of employees today work outside of the office full time
85% of Fortune's Best Companies to Work allow employees to telecommute or work from home at least 20% of the time
Spending on technology has risen from $6.3B in 2013 to $23.9B in 2017 globally
Buildings are becoming smart, and will continue to have technology incorporated into every component of the facility. Coworking spaces are growing thanks to a liquid, digital workforce. The customer, from real estate's perspective, has changed from the CEO to the employees, because employees have a voice and the fight for talent means experience can give companies an edge over competitors.
How do we best support the employee experience? The real estate market gives us a good indication by focusing on three different "places:"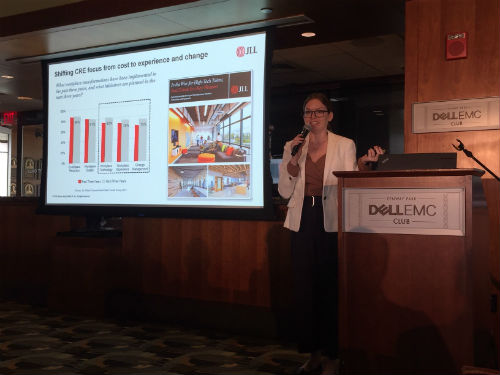 The Virtual Place – the technological place that people work, regardless of where they are in the physical world, that give flexibility to work where and when we want
The Third Place – Places people work outside of the home or office, like coworking spaces, coffee shops, airports, and hotels
The Experience Place – the workplace as a destination you go to have an experience
You need to attract people to the office because there are so many other places they are able to work. Part of that is managing by performance rather than presence. In fact, in a study done by Stanford in China, researchers found that employees working from home increased performance by 13%, while staff turnover decreased by 50%.
When working from home you're being managed solely by performance, as presence isn't measured. The experiential workplace will manage all employees this way, whether primarily in the office or outside. Technology can speak to this directly – you can implement tech that monitors employees, or implement tech that empowers them to work better.
Wellness and wellbeing also have a place in the experience workplace. WELL and LEED certifications offer companies opportunities to increase the sustainability of the company as well as the wellness of the employees. Technology and analytics go a long way toward both of these certifications. In fact, increased green technology leads to an increase in productivity – better acoustics, lighting, views, ventilation, ergonomics, and privacy have an impact. Not to mention the fact that increased technology to manage utilities can reduce the cost of utilities.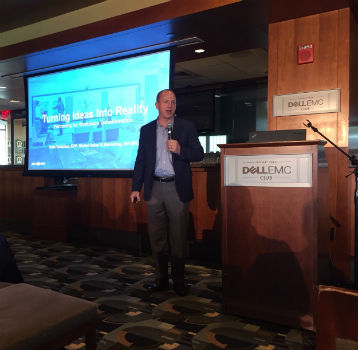 As Kross points out, technology and real estate are colliding. Thanks to a more liquid, digital workforce, workspaces are becoming co-opted, fluid, open, and technologically capable. Desks aren't being assigned, rather "neighborhoods" of workspaces are assigned to teams of employees. People are working from more diverse locations than ever before. In order to attract and retain talent, the experience of the space is key.
The presentations wrapped up with a presentation from Dale Bottcher, EVP of Global Sales & Marketing for AVI-SPL, about workplace transformation to open, flexible, technology-enabled spaces. "Work is not a place any longer," says Bottcher, "It's an action. We're living the experience." Finally a panel fielded audience questions to further discuss much of the revelations throughout the day.
Afterwards, a small trade show floor was set up overlooking Fenway Park. Companies included:
Shure
Oblong
Canon
Liberty AV Solutions
Acendo Core
ClearOne
Crestron
Sharp
Cisco
Legrand
Windy City Wire
NEC
Biamp
Samsung
Christie
Barco
LG
VideoLink
Symphony
Attendees conversed with representatives of these companies to learn more about how technology fits into the experience of the workplace.
TechXchange offered a glimpse into the budding workplace of the future, focused on experience to convince a mobile workforce to come into the office. If you'd like to attend a TechXchange event, AVI-SPL is holding several through the rest of 2018:
Atlanta, GA September 12
Washington, D.C. September 27
St. Paul, MN October 2
Calgary, CAN October 9
Denver, CO October 30
If you enjoyed this article and want to receive more valuable industry content like this, click here to sign up for our digital newsletters!