For the best results, or should I say the most accurate results, you need to be using a professional USB mic to take audio measurements with your mobile device. Once you have gone though the apps to see which one has the features you like, check out my article: Must Have Pro USB Attachments for Precise Audio Measurement With Android and iOS Apps, to explore your options for the best mobile ready mics.
Be prepared to tune a spectrum of different speakers, monitors, subwoofers and acoustical environments with your smart device. Speaker test and tuning mobile apps make it easier for you to get the most out of the space with the least amount of work or gear — all you need is your smart device.
When preparing to tune a speaker system, it is important to have the capacity to not only gauge a variety of frequencies, but keep track of readings and guarantee that your readings are accurate. Mobile speaker tuners and testers can accomplish a handful of different readings and tasks. Some apps are focused on low end frequencies. Subwoofer testers are great for reading frequencies from 0hz and 440hz. Other audio tools with RTA or FFT features can read SPL and help you tune your speakers according to reflection and sound dispersion.
Tuning a space means taking into account not only what is heard on stage, but how the audience hears the performance or application as well. Having a mobile option for reading sound levels that is multi-functional and accurate is important to guaranteeing the most of the space. When dealing with specifics, such as speech intelligibility, it is key to being prepared to deal with any application of sound with ease.
Another essential feature that mobile speaker test and tuning apps offer is the ability to save, graph and export readings. While this does not directly enhance or detract from the apps ability to read sound levels, being able to return to previous readings or send readings elsewhere is paramount for consistency within a specific space over a long period of time. You want the space to sound good all the time, not just once, and having reference to previous levels lets you confidently say that your space sounds great.
This collection of apps showcases a group of speaker testing and tuning apps for your mobile device. Each app is useful in specific situations — while every app might not be for you, there are guaranteed to be a few that you will find valuable according to your task. Finding the right audio app is completely up to your specific situation.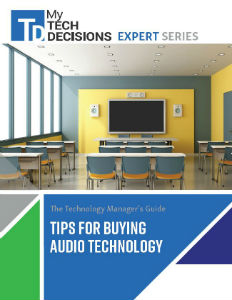 You need the most expensive audio technology in your office, right? Wrong! Learn how to purchase the perfect audio technology, not the most expensive, for your organizationin in this FREE report.
The Technology Manager's Guide: Tips for Buying Audio Technology