Pulling into New York on March 8, the Martin Audio Demo Tour comes to North America to help integrators learn about a range of product solutions.
The WaveFront Precision line arrays, the monitor XE wedges and the powered point source CDD-LIVE products.
"We're excited to take our leading solutions on the road so more people can hear them and understand how they are the perfect partner for both rental companies and fixed installations," states Lee Stein, vice president of sales, Martin Audio.
The Martin Audio Demo tour will also make stops in Southern California, Las Vegas, Dallas, Milwaukee, Washington D.C., Denver and Orlando.
Martin Audio Demo Tour Delivers Product Education
Briefly explaining each of the product lines it plans on showcasing as part of its 2018 North American Demo tour, Martin Audio says Wavefront Precision line arrays are designed as complete systems.
Wavefront Precision line arrays employ iKON multichannel amplifiers, and they are optimized by automated DISPLAY software.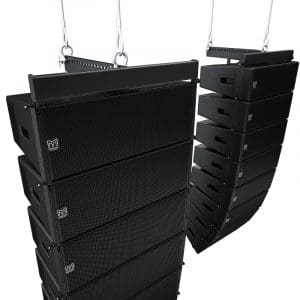 Martin Audio points out the Wavefront Precision line arrays are scalable to help in the ability to maximize coverage and system control to ensure a consistent listening experience.
The XE monitors were developed through conversations with monitor engineers, and Martin Audio notes the products offer users a choice of sleek, low-profile enclosures that incorporate its Coaxial Differential Dispersion technology.
Further aiding the XE monitors' ability to deliver defined coverage patterns and low levels of distortion is Martin Audio's third-static waveguide.
Elaborating on its CDD-LIVE series of products, Martin Audio says the line provides integrators with a choice of three full-range models and two subwoofers.
The products integrate into environments that range from clubs for live band reinforcement and DJ music situations, to corporate events, theaters, performance halls.
Martin Audio emphasizes the CDD-LIVE series produces the benefits of "point source" coaxial designs through the implementation of its Differential Dispersion technology, which enables the products to project sound evenly from front-to-back, while also producing wide horizontal coverage close to the speaker.
The company adds the CDD-LIVE products also incorporate onboard class-D amplification and Dante network provisions help to expedite the setup and installation process.
More details on the 2018 tour can be found here.