AtlasIED, the Phoenix, Ariz.-based global electronics manufacturer of audio, mass communications and soundmasking solutions, announced several new products for its Atmosphere audio processing and control platform. These include two combined signal processor and amplification products, the Atmosphere AZMP4 (4-zone) and AZMP8 (8-zone), and the Atmosphere X-ZPS, an advanced multi-zone paging station accessory. Additionally, AtlasIED is now offering Atmosphere 3.0, a software update for the Atmosphere platform.
Engineered with automation, artificial intelligence and touchless control, Atmosphere combines digital audio processors, amplifiers, graphical user interfaces, programming software and controls to set a new operational and performance standard for digital audio systems.
Designed to be simple to install and easy to operate, the platform offers the modularity, scalability, and quality performance required to support the audio needs of a wide range of commercial applications, including restaurants, bars, hotels, school campuses, houses of worship and retail establishments.
"The introduction of these new hardware products and the latest software represent another important milestone and highlights the continued innovation of the Atmosphere platform," says Tom Lureman, director of product management at AtlasIED. "The Atmosphere platform has transformed the way our customers integrate audio into a variety of environments, like hospitality. These latest products bring even more capabilities and value to support their clients' needs."
Audio Processing and Amplification in One
Building upon the foundation of the Atmosphere AZM series of signal processors, the new Atmosphere AZMP4 (4-zone) and AZMP8 (8-zone) add built-in premium amplification to help customers consolidate products in an audio rack and streamline system integration.
The AZMP4 is powered by a single 600W 4-channel amplifier module while the AZMP8 provides 1200W of total power. Any AZMP4 or AZMP8 individual channel can be software configured to provide different wattages. For example, if a restaurant has several zones but one has more speakers, an installer can use the AZMP to divide the power to better suit a zone with more or less speakers.
Multi-zone Paging Station Accessory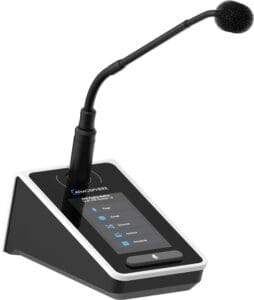 AtlasIED also unveiled the Atmosphere X-ZPS, an advanced multi-zone paging station accessory natively compatible with AtliasIED AZM and AZMP processors. Like all Atmosphere accessories, the X-ZPS is plug-and-play using CAT5e cable and daisy-chainable with other accessories up to 1,000 feet. With a 4.3-inch touchscreen display for easy Zone, Group, or All Call paging using the included premium gooseneck microphone, it can also be configured as a full Atmosphere system controller with access to features including zone volume, source select, message recall, scene select and bell schedule.
Atmosphere 3.0
AtlasIED also launched its latest major software update for the Atmosphere platform, Atmosphere 3.0. Available for AtlasIED AZM audio processors and the new AZMP combination audio processors with built-in amplifiers, the Atmosphere 3.0 update builds upon the embedded intelligence for the system, now allowing for continuous monitoring and supervision of system health and performance.
A new Self-Test feature measures system performance over time and provides notifications of any degradation of loudspeaker load. Additionally, Atmosphere 3.0, introduces soundmasking as another feature of this powerful platform. Used in corporate, healthcare/ clinical, and other settings, sound masking helps cover speech for enhanced speech privacy and reduce distracting office noise for increased focus and productivity.
The Atmosphere AZMP8, AZMP4, X-ZPS, and the 3.0 software will be available in early 2023. The Atmosphere 3.0 software update can be downloaded when released.
Another version of this article originally appeared on our sister-site Commercial Integrator on January 31, 2023. It has since been updated for My TechDecisions' audience.
If you enjoyed this article and want to receive more valuable industry content like this, click here to sign up for our digital newsletters!