Crestron has long been a company that has stood out on the engineering side. At ISE 2020 the company is pushing programming – or rather eliminating the need to program in order to control AV equipment on the network.
A number of feature enhancements are being shown at the Crestron booth (2-C20, 2-E20, 2-E30) at ISE. However, what's really being shown is how Crestron equipment works to provide wholistic control of AV systems.
It's not just about the boxes anymore – it's about how Crestron utilizes the cloud and a user-friendly dashboard for quick deployment, reconfiguration, and updating of meeting room AV systems.
Let's take a look at some of the products to keep an eye on at the show:
Flex UC Product Line
The Flex line of products from Crestron include desktop phones, tabletop devices, soundbars, touchscreens, and installer kits. A new feature being shown at ISE is that these devices can work in multiple room environments – including Teams, Zoom, Mercury, and BYOD.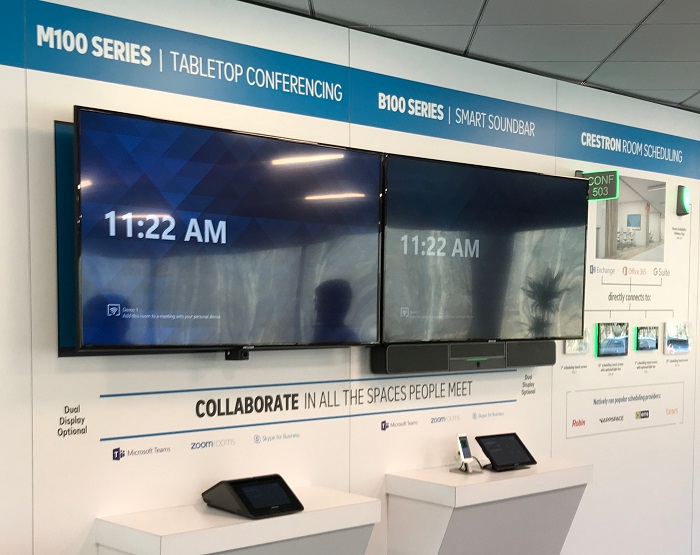 The real power of the system, however, comes with its integration in Crestron XiO Cloud IoT platform.
Using a device's serial number and MAC address, an admin or integrator can easily configure devices before they arrive on-site.
The devices automatically connect to the cloud, retrieve their configuration, and are ready to host a meeting.
The Crestron XiO Cloud dashboard is where this configuration occurs.
A simple user-interface provides admins and integrators the ability to manage every connected device from Crestron and its partners.
The dashboard allows users to remotely configure rooms, diagnose problems, and update equipment from the central platform.
The dashboard can also provide metrics from connected devices.
Where once Fusion collected data, but users needed to analyze it themselves, Crestron has now built an API that will let teams pull data out of XiO cloud for analysis.
DM NVX
The DM NVX is a mission critical, IT-grade, enterprise device that happens to do AV. With a failure rate of less than 1%, the system is reliable and can meet whatever integrators need.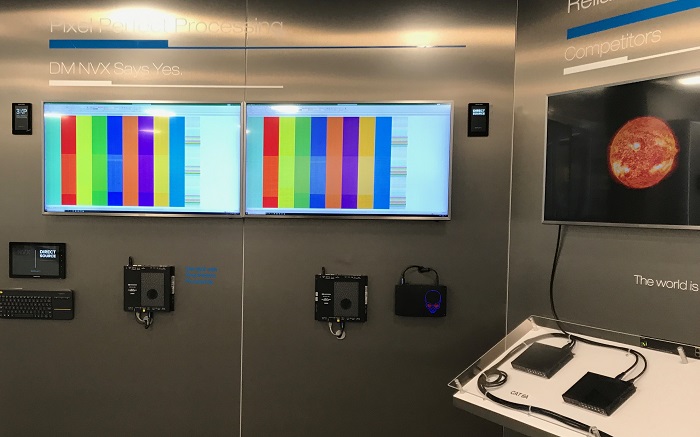 A new codec has been developed called Picture Perfect process, which renders still images much more clearly and brings down latency to 8 milliseconds.
That means image quality and latency are identical to the source.
The power of NVX comes in distribution. You can plug in any mount of sources through HDMI to NVX and switch between all of them to any amount of displays.
As long as its in the same corporate network, you can push a source from anywhere to anywhere as long as there is an NVX for the display.
All of the NVX devices communicate when they're in the same network. It's breaking away from the matrix paradigm of ins and outs – there are simply sources and outputs.
NVX Director allows users to manage up to 2,000 endpoints. It's basically a virtual matrix so you can control your routing through NVX devices on the network. It also provides visual
representation of sources and routing so you can see where transactions start and stop, and troubleshoot remotely.
AirMedia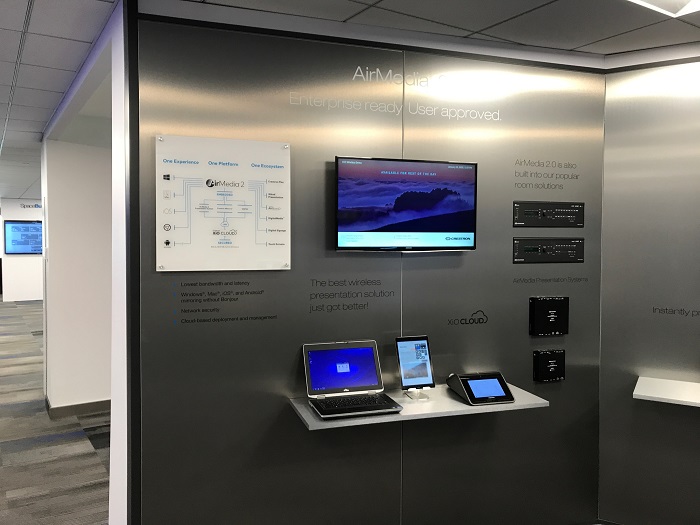 The new AirMedia with touchscreen is a completely different device than the original. It provides a room system with no programming necessary. It's similar to setting up a router at home.
The system is totally secure. Presenting directly to a unit is the equivalent of taking your screen and sending it to an endpoint in the network.
As it's a utility that lives on the network it utilizes all existing security protocol. Documentation is provided for an easy conversation with the IT team.
Related: 10 ISE 2020 Exhibitors Our Editors are Excited to See
The wait screen is fully customizable. It can show company branding, tie into calendars, etc. you can set up scheduling so the screen changes depending on the day or time, making it a presentation device when needed or a digital signage display when not being used.
This turnkey solution is ready out of the box. It takes away the need for integrators to program spaces like meeting rooms, and focus their programmers on more complicated spaces.
TSS Series Room Scheduling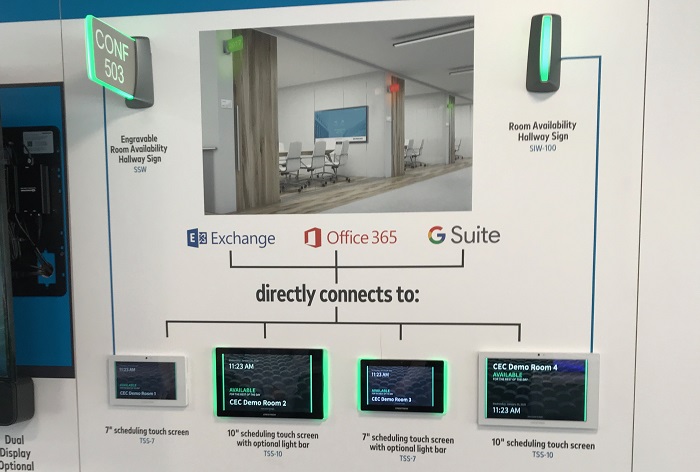 The TSS series is one of Crestron's fastest-growing products – largely due to its open-platform flexibility.
Users can standardize on the hardware they want and pick the right software for their organization.
There are 20 different partners and calendars to connect to the TSS series. Information can be pulled and shown on an app that can be fully customized with company branding.
Crestron is always open to new partners as well – companies can reach out to Crestron to dvelop an APK, test it, and run it on the Crestron hardware.
The devices are all PoE, so they can be managed on the network the same as a connected laptop or printer.