System operators within an electric utility control room are responsible for balancing and maintaining the grid and reliably providing critical resources to millions of people over a wide area. Failures in the electric grid, including downtime or malfunction, could mean life or death.
In the mission-critical space of control rooms, systems need to be functioning around the clock so operators can make split-second decisions. It requires reliable and long-lasting control room solutions so that operators are not constantly fighting downtime due to repairs or replacements. However, control room technology continues to become more complex as new data sources take shape leading operators to demand real-time information and visualization of more data sources.
That is why today's control rooms need to be built with scalable technologies designed to withstand these constant changes while providing a superior user experience.
Those criteria are what guided Garland Power & Light when the Texas municipal utility started looking to modernize its control room with a new video wall system.
"Control room operations is a 24/7/365 job to keep critical systems up and running.  Control room operators need to source components that are reliable and long-lasting, to ensure continuity of operations," says Matt Carter, T&D Operations Manager at Garland Power & Light.
Current Control Room Considerations: Reliability and Longevity First
Carter, who is responsible for the real-time operations of transmission and distribution systems for Garland, the Dallas suburb of about 240,000 residents, says control room operators should consider the quality of the products foremost and determine which products present the best return-on-investment.
"I weigh dependability, longevity and reliability against cost to determine the best ROI for GPL and our residents," Carter says.
As the complexity and variety of data sources increase, so does the pressure on control room operators to adapt and improve. Like other markets, utilities too are approaching a work-force change as operators with decades of experience retire and a new generation takes over the console seats.  These incoming operators are accustomed to large amounts of data being available at their fingertips and demand greater real-time functionality that mirrors the speed of consumer technology and mobile devices.
"Our new operators bring with them a new approach.  There is no longer a guy that's been sitting there using pen and paper or a calculator for the last 20 years," Carter says. "They're used to doing everything on a phone or tablet and their ability to multitask is impressive."
That is especially true for display systems that operators depend on  for information to make critical decisions about power management, emergency response and risk mitigation.
When working with a manufacturer for a particular solution, control room operators should keep these things in mind:
The company's track record on solutions and service
How long they've been in business – especially important since longevity of products is critical
How long they've been making a particular product – a key indicator of the product's success and future scalability
Do they stand behind their products – their customer service and support will make an impact
Are their customers satisfied? – talk around, does the solution walk the talk .
Given these considerations, GPL depends on Barco's control room systems to monitor the power grid for the city of nearly a quarter million people. After researching products and companies for three years, GPL concluded that Barco checks all those boxes.
"They have a really excellent track record," Carter says. "They have provided the video wall systems for our RTO, ERCOT, for 15 years now.  We work closely with ERCOT and value their experience and opinion. I've had very few problems with (Barco control room systems) and they just have a really good reliability record", says Carter.
In an 24/7 environment where malfunction, repairs and downtime can have disastrous impacts, working with a quality control technology partner that stands behind their products is critical.
The Unmatched Reliability of Barco's UniSee Platform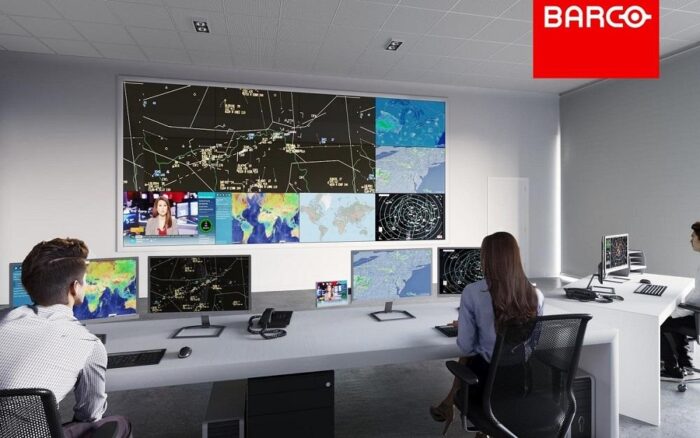 With a demand that its control room infrastructure – particular the video wall system – operate 100% of the time, the GPL team chose Barco's UniSee video wall platform. The municipal utility zeroed in on UniSee due to its superior viewing experience, bezel-less design, serviceability, dependability and scalability that will keep the product up to date with other emerging control room technologies.
The UniSee 500 series features a light source lifetime of 100,000 hours, redundancy of critical components and a service-friendly design that gives operators the longevity they demand while adding the ability to easily fix or replace components.
In fact, replacing a portion of the wall takes just a few minutes, which reduces downtime when control room operators need working technology to make critical decisions. For GPL, the ability to quickly repair the system and reduce downtime was key.
"Five minutes and we're back up and running again," Carter says. "That was the determining factor for us."
The UniSee series also features Sense X, an automatic and continuous color and brightness calibration system that always provides a balanced image. When looking at transmission lines visualized on the control room displays, control room operators rely on that color uniformity to make accurate decisions.
"The seams are unnoticeable," Carter says. "You don't have one display that's brighter than the one next
In a control room environment, a quick response and effective decision-making are of the utmost importance, so the ability to display a detailed picture of critical infrastructure with visualized data from a growing variety of sources is critical. Barco's TransForm N processing system and CMS software allow sources of all types to be brought into an isolated network for interaction and collaboration.
"Our system operators rely on the information being displayed on the Barco system when working with our field personnel.  The data relayed from the control room to the field is vital to the safety of our staff, protecting our infrastructure and servicing our customers," Carter says.
Finally, for that complete peace of mind, it makes a big difference to invest in a good service plan. If the time for it arises, then having professional service warranty from the manufacturer can make or break the entire control room operation. It's the kind of long-term decision making where today's decision can have an enormous impact on years to come.
If you enjoyed this article and want to receive more valuable industry content like this, click here to sign up for our digital newsletters!