Video walls have found homes in many different types of settings, including corporate offices, retail stores, transportation hubs and sports venues, as well as command and control facilities. When deciding which type of video wall installation is appropriate for your customers' needs, first determine which of the two basic types of technology — LCD or dvLED – is best suited to the specific application. LCD and dvLED displays have very different features and benefits.
Liquid Crystal Displays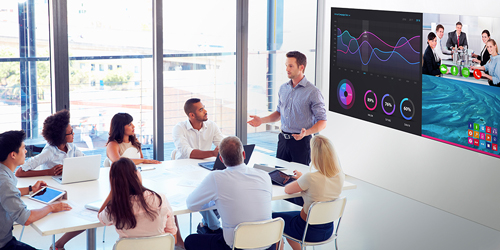 LCD panels are bright and provide high-resolution images. They offer powerful calibration capabilities to deliver an image which is perceived by the viewer as homogenous across multiple screens. They are slim, easy to install and can be configured to many shapes and sizes for creative and scalable video wall deployments. With a low initial cost and energy efficient operation, they offer an impressively low total cost of ownership.
Direct View LED
dvLED panels have many advantages, including superior contrast and viewing angles, long life, energy efficiency and high brightness corresponding to its suitability for both indoor and outdoor applications. Because there are no bezels, dvLED panels configure to create a single large surface area without distraction from image gaps.
Choosing the Right Panel
Selecting the best video wall solution for a specific indoor installation can be challenging. Here are some considerations to keep in mind:
Pixel pitch: In general, a large screen viewed from afar can have a relatively high pixel pitch, but a screen viewed close up should have a small pixel pitch. LCD video walls today tend to feature a smaller pixel pitch compared to dvLED.
Image quality: For tiled settings, it is vital to achieve a perfectly matched image across the entire surface; mismatched colors and misalignments will be very distracting to the eye. Look for reliable color reproduction and uniformity.
Brightness: Not only for outdoor installations, brightness is also a major consideration for indoor video walls. Take into account the ambient light conditions to ensure the video wall will have sufficient brightness to provide excellent viewability.
Heat dissipation: Because LED (used as a backlight for LCD or for dvLED) emits heat as well as light, heat build-up can be a concern especially in multiple display setups and can potentially affect image performance and speed aging.
Build quality: Video walls should be robust enough to withstand exposure to harsh environmental conditions including minor knocks. LCD displays must be of robust commercial build with a metal back cover and be specially designed for integration into video walls. Choose from a high quality dvLED manufacturer with a robust connection system between modules enabling precise placement and adjustment.
Front and rear service access: For easier installation and lower-cost maintenance, make sure video wall panels have front and rear access. Both ways ensure easy access to the display for maintenance, repair and installation.
Cost: LCD panels are less expensive than dvLED panels, but the gap is narrowing. A finer pixel pitch is the primary contributor to a higher cost in a dvLED display, so it is important to work with your solution provider to ensure that the pixel pitch matches your client's budget, image quality expectations, viewing distances and content type.
The Big Picture
Because of recent advances in dvLED technology, customers considering an indoor video wall installation now have options beyond the traditional LCD solutions. The decision between LCD or dvLED depends on a wide range of factors; by matching client need against the benefits of the technologies available, a cost-effective, long-term signage solution can be achieved. Your Sharp NEC sales partner or authorized NEC reseller provides customized consultancy in order to find the perfect fit solution for your application and specific needs.

If you enjoyed this article and want to receive more valuable industry content like this, click here to sign up for our digital newsletters!