We've all been there: our eyes glazing over at another impenetrable wall of little boxes, blinking back at us. And yet, all we're doing is starting at our own video reflection, distractedly.
It's time for a videoconferencing refresh!
Thankfully, Zoom heard our despair and recently announced Immersive Views. This feature evolves the standard videoconferencing background into a more visually interesting experience. By placing each participant in a virtual room, it appears less like you're talking to a bank of security camera monitors and more like you're interacting with a room full of your colleagues.
It's not perfect – but it's certainly nice to have something new to shake up our daily videoconferences. Here's a quick primer on Immersive Views so that you can gift your team something precious: less video fatigue and a more engaging Zoom experience.
What's Immersive View and how does it work?
Immersive View is a way for meeting hosts to place participants on a single virtual background. So, whether for a panel, classroom or board meeting, it puts everyone together into one scene.
Since it mimics a bit of what it's like to meet in person, Zoom Immersive View makes meetings more natural. You'll see each participant on a single view, free of distractions, which also makes it more collaborative.
This new virtual meeting space is a great way to add a little fun and novelty to the experience, which ideally gives everyone a breather from video burnout.
You can add up to 25 people into the single view, which can be chosen among some presets (more later). Of course, you can also build your own! There are some interesting options out there that make it a little bit easier to create a custom view. As you can imagine, it's a bit trickier than your standard green screen! Just be sure to follow Zoom's guidelines for virtual backgrounds, otherwise, the experience won't work well.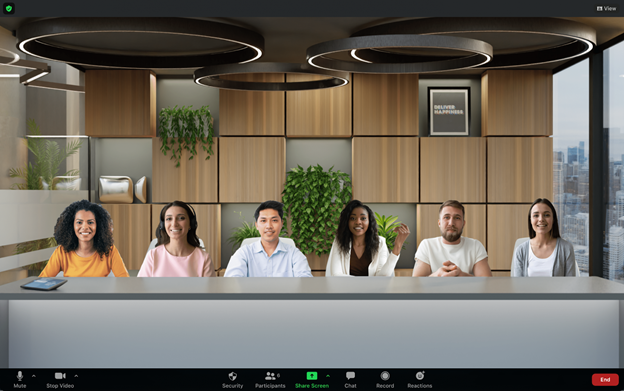 Another fun facet of Immersive View is that you can bring people into video as well, placing them in your own virtual backdrop.
How to setup Immersive View
First, make sure that you are running the latest version of Zoom, as Immersive View requires version 5.6.3 or later. If you're on a free or single Pro account, the feature should be enabled by default.
Otherwise, you'll need to enable the feature. You can do this by going to Account Management -> Account Settings -> Meeting (Advanced) -> Immersive View. You can also lock these settings by clicking the lock, which will make these settings mandatory across users.

You can also set this feature at the Group level, so that only specific teams in your company have it enabled. We recommend doing this when trying to streamline options for teams within your organization that don't need added complexity. That way, people only see options that they're likely to use – and don't get confused by unnecessary bells and whistles.
Now that you've got the settings down, it's time to turn on Immersive View as a host.
Meeting hosts will then be able to select Immersive View for their meetings by clicking on the View button at the top-right corner and choosing "Immersive View." It's the same process that you use to select Speaker or Gallery View. Keep in mind that the view can only be started by someone on a desktop – so it won't be viewable as a setting on the mobile or tablets.
Now comes the fun part: choosing your backdrop. You can choose from nine Immersive View scenes. And, just like scheduling meeting rooms IRL, each has its own seating capacity:
Kitchen (2)
Cafe (2)
Fireside Chat (2)
Art Gallery (5)
Boardroom (6)
Learning Pods (24)
Auditorium (25)
Classroom (25)
Once you've chosen the best scene for your meeting, now you have to get everyone to their seats. You'll have the option of either letting Zoom automatically place participants in the scene or doing it manually. As people arrive, you can simply drag and drop their videos into place, resizing people to fit by clicking on their video and adjusting the blue frame. For any stragglers, they'll appear as unassigned participants above the scene.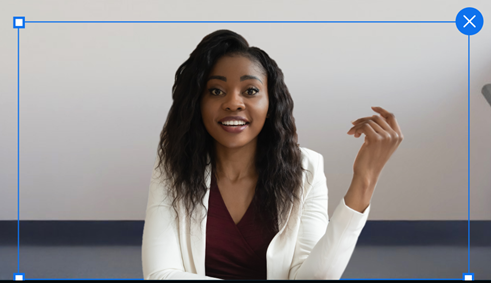 One caveat when troubleshooting Immersive Views with your team: anyone with older version of Zoom will continue seeing with Gallery or Speaker View — so make sure everyone on your team has version 5.6.3 or later. And, if all else fails, you can always turn it off and go back to the Gallery View or Speaker View.
When to use Immersive View
We recommend that clients enable Immersive View for any meeting that can use a little freshening. It can be great for collaboration and general ease of communication, as it's more natural than the typical boxes.
It can also be kind of funny to bring participants into your own virtual background – kind of like an all-hands meeting that has the leader surrounding by faces of her peers. The best advice is to experiment and see what works best.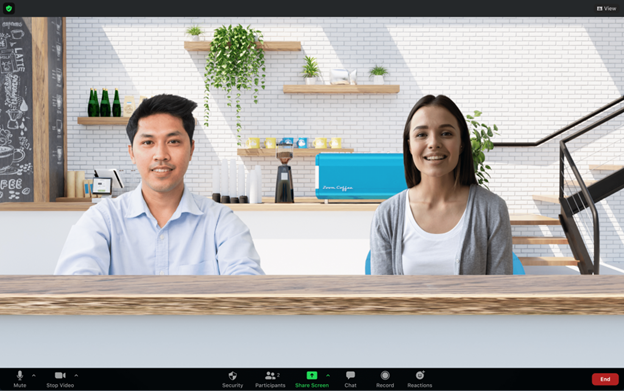 Each team and organization has different habits and preferences; find out what works for yours. It never hurts to try new things! In the end, if it combats video fatigue, that's a win for your organization.
Travis Baumann is the founder and CEO of InGenius Solutions, an AV integrator that builds bespoke solutions for small and medium-sized businesses. He lives in Grass Valley, CA.