The YMCA of Southwest Kansas is where people discover who they are and all that they can be. The 68,000 square foot facility welcomes 6,000 registered members, with an additional 22,000 guests per year who participate in over 19,000 programs, with over 74,000 check-ins per year. All individuals are considered family members and share the same commitment to living healthy, setting great examples, and giving back to their neighbors.
The Tech Decision
Lighting and cooling much of the facility of this size is no easy or inexpensive process—a task which aging equipment and budget constraints only made more daunting. In a single month, the YMCA was consuming 11,208 kWh. In addition, replacing worn-out bulbs seemed to be a perpetual process costing thousands of dollars.
"We wanted to install all LEDs and had already invested $2,500 into the fitness center, $3,000 into the pool area and $1,000 into the racquetball area," says Chad Knight, CEO, YMCA, Southwest, KS.
After a facility assessment at the YMCA of Southwest Kansas, Budderfly computed the energy use reduction based on suggested technology upgrades to lighting and HVAC units. Budderfly guaranteed that the money saved on electricity bills would pay for the new LED lighting and HVAC upgrades, and best of all the YMCA would receive these upgrades at no out-of-pocket expense. Budderfly created a three-week installation plan and hired/negotiated pricing with the YMCA's preferred vendors wherever possible.
"It was a no-brainer for my committee because we had nothing to lose," Knight says. "Budderfly came up with the capital investment, it was just a huge benefit to have the money put upfront for us to make a difference in our facility, make a difference for our members, and most importantly—get the energy savings on the HVAC equipment so it was not running at full capacity all the time."
The Solution
As part of the no-cost energy-as-a-service plan, Budderfly upgraded the following YMCA area lighting fixtures:
Racquetball Courts – Retrofitted 16 existing 400W MH recessed fixtures with high-efficiency 150W LED Corn Cob lights and retrofitted 9 existing 100W MH recessed fixtures with high-efficiency 54W LED Corn Cob lights. (M&L) Cost: $4,000, $1,395, Estimated Annual Energy Savings (kWh): 11,874, Estimated Annual Cost Savings: $1,187
Pool Area – Retrofitted 29 existing 400W MH Wall Pack fixtures with high-efficiency 150W LED Corn Cob lights. (M&L) Cost: $7,250, Estimated Annual Energy Savings (kWh): 41,380, Estimated Annual Cost Savings: $4,138
Ed Lewis and Youth Fitness Centers – Retrofitted the existing 30 Surface Mount fluorescent T8 fixtures with high-efficiency LED fixtures (lightbars) and Tubes (LED T8s). (M&L) Cost: $2,445, Estimated Annual Energy Savings (kWh): 5,470, Estimated Annual Cost Savings: $547
Basketball Court and Gymnastics Area – Replaced 36 2×4 T5 high-bay fixtures with new LED high-bay fixtures. (M&L) Cost: $8,460, Estimated Annual Energy Savings (kWh): 23,482, Estimated Annual Cost Savings: $2,348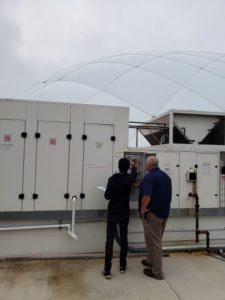 In addition to the LED lighting, Budderfly also performed a complete audit of the HVAC units. The company installed NexRev Variable Frequency Drives on six units, which make constant small adjustments to control power and temperature with maximized performance and efficiency. The company also installed HVAC Chips in seven units to regulate performance and extend the unit's lifecycle.
The installation process was quick, and most notable, did not disrupt any operations or member services. Budderfly provided 100% of the capital, equipment, and installation to transform the YMCA for energy efficiency. The company's unique, savings-financed model also allowed Chad to approve the process and move forward promptly and without the usual budgetary allocations and piecemeal installation approaches.
"For the capital investment, we would have been doing this for 10 to 12 years to do what Budderfly did for us in a matter of 3 weeks," Knight says.
The Impact
As soon as the contract was signed, Budderfly began installation and assumed responsibility for the YMCA's electric and gas payments. Instead of receiving these utility bills each month, Budderfly sends the YMCA a simple, consolidated monthly bill showing pre-established usage.
All maintenance and monitoring of the technology installed by Budderfly is included in this arrangement. When it comes to energy efficiency for YMCAs, over time the increased energy efficiency results in significant monetary savings which Budderfly will contractually share with the Kansas-based YMCA, lowering the community center's monthly costs even more.
Budderfly was able to do everything very quickly, with no disruptions, and at zero cost to the YMCA.
"It's all about the members and keeping them happy. Happy members translate to a  happy life for the YMCA and these are the folks that really benefit from it all," Knight says.