2020 was a year unlike any other. With New Hampshire going into a State of Emergency at the beginning of March and in-person classes being suspended soon after across the state, there was an urgent need for hybrid classroom technology. Luckily, the University System of New Hampshire (USNH) had been preparing for this and was ready when the time arrived quicker than anticipated.
The Tech Decision
Before the Coronavirus pandemic hit, USNH was already working on a plan to upgrade a small number of classrooms on its campuses.
The technical teams had worked together to craft their own perfect recipe for what they wanted to do in a typical classroom.
Once the virus hit, they leapt into action and were at the forefront to implement these upgrades when given the go ahead.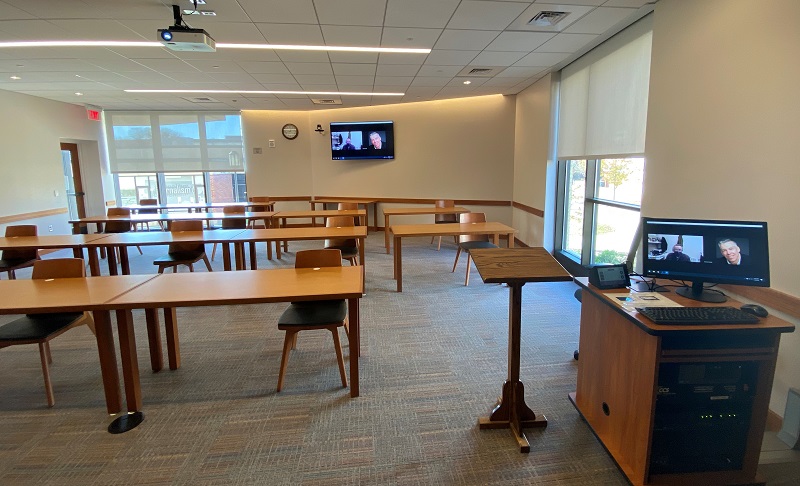 USNH CIO Bill Poirier came to Marshall White, the new Enterprise & Services (ET&S) Director for Learning and Space Technologies (LTS), informing him that the Chancellor was ready to move forward with the media upgrade plan.
There were high expectations to provide an excellent experience for the faculty and students of the USNH. With that, the LST team, composed of AV professionals from each USNH institution, got to work implementing their classroom designs.
The concept was to convert classrooms from analog to digital systems and provide a high-quality experience for remote students to see and hear instructors better, allowing for face-to face and remote classmates to feel as if they were still together.
The USNH LST team worked diligently with New Hampshire-based vendors, such as CCS Presentation Systems New England of Nashua, NH, to rapidly provide remote learning capability to 50% of its classrooms across Keene State College, Plymouth State University, University of New Hampshire-Durham, University of New Hampshire-Manchester, Franklin Pierce School of Law and Granite State College.
The Hybrid Classroom Technology System
A total of 193 zoom-capable classrooms were upgraded, adding flexibility for students and faculty. Of those classrooms, CCS outfitted 98 of them with high-tech audio and video systems that allow students to attend classes in person or remotely and see and hear each other clearly, while also giving faculty the flexibility to teach from home.
Installed tech included:
1Beyond AutoTracker 3 cameras in the back of the rooms to follow the presenter, using facial recognition
Vaddio wide-shot SE Qmini student focused cameras at the front to capture the students in class
Panasonic TH-65EQ1U 4K reference monitors for the presenter at the back
Legrand-Chief display wall & ceiling mounts and Middle Atlantic Racks
Shure Microflex AEC ceiling array microphones for room audio pick up with Sure mixers
Audinate Dante Domain Manager (DDM)
Crestron Digital Media 8G+ with 7" control panels, HDMI over CAT Tx/Rx, DA & occupancy sensors
INOGENI – SDI to USB 2.0 MJPEG Encoders
FSR in-ceiling racks
Spectrum lecterns with equipment racks and Connectrac floor tracks, making cables run across the floor ADA and fire code compliant
The Impact
It was important to USNH to employ qualified vendors locally within the state of New Hampshire for this extremely tight timeline project. USNH already had a great history and working relationship with CCS.
With this specific project, there was a lot of collaboration between USNH and CCS Engineers, starting during the classroom site visits. As challenges were identified, the team adapted on the fly and worked together to come up with an effective solution.
When CARES act funding became available to provide emergency continuity of instruction, the CIO and Chancellor of USNH applied for it, received it and were able to use the funding for this project.
USNH knew that New Hampshire had a number of high quality AV integrators, making it a competitive bid process for all. In the end, USNH was happy to source locally and provide work to a New Hampshire based company that not only finished the job well – but finished it on time and on budget.
Related: 9 Technology Products to Help Combat COVID-19 Spread in the Workplace
Since the install, the upgrades have been well received and have provided enhanced classroom discussions and collaboration across the campuses. USNH has received positive feedback from both staff and students.
This job was an important one. In a time where we can't be together, the new hybrid classroom technology provides an immersive experience, allowing teachers and students to feel as if they still are in the same classroom.