As an ACC member, the University of Miami (UM) needed to upgrade the broadcast system facility on its Coral Gables, Florida campus to meet or exceed ESPN's strict broadcast production standards for the ACC Network.
The Tech Decision
To accomplish this, the UM Athletics Department—led by Drew Thomas, Director of Production Services and Anthony Listochi, Manager, Production Services—turned to Miami-based Midtown Video to create the operationally complex, yet flexible, centralized HD video production workflow.
As a local systems integration firm in Miami, Midtown Video has had a strong, on-going relationship with U Miami Athletics, having designed and built several robust, flexible, ergonomic video production facilities for them that we delivered on time and on budget.
UM wanted to maximize every dollar spent and utilize the full capabilities of every product bought and integrated.
Midtown made sure to integrate many different products from a variety of world-class manufacturers in a way that effectively delivered the highly flexible, centralized, ESPN-compliant HD video production workflow they required.
The turnkey package included broadcast system testing, customer training, and on-site technical support.
The Broadcast System Solution
Control Room A was built for live, linear television broadcast.
Control Room B was built for streaming to ESPN3 and ESPN Extra, a "whisper" audio mixing suite, and a machine room, all on the second floor of the Hecht Athletics Center.
The challenge was to configure both control rooms to produce live, 720/60p shows using shared resources, including video and audio shot and backhauled via fiber from the various UM venues where ACC sporting events are held.
Related: 4 Digital Signage Innovations ALL Your Projects Need from Now On
UM also deployed layers of automatic failover redundancy on key components of the broadcast workflow.
The solution featured an innovative, Audinate Dante-enabled IP-based audio network workflow, including a Yamaha CL5 digital audio mixing console, RTS Odin IFB Intercom system, and Evertz router equipped with Dante SDI cards.
Dante enabled easier, flexible configuration of audio router settings, and complex IFB intercom mixes between the producers, directors, production crew, and ESPN production team, while maximizing network capacity.
The UM video installation featured best-in-class video systems, including an EVS DYVI production switcher, with EVS replay servers, a 14-monitor video wall, a large Evertz video router, and 13 broadcast cameras, including five new Panasonic HD studio cameras.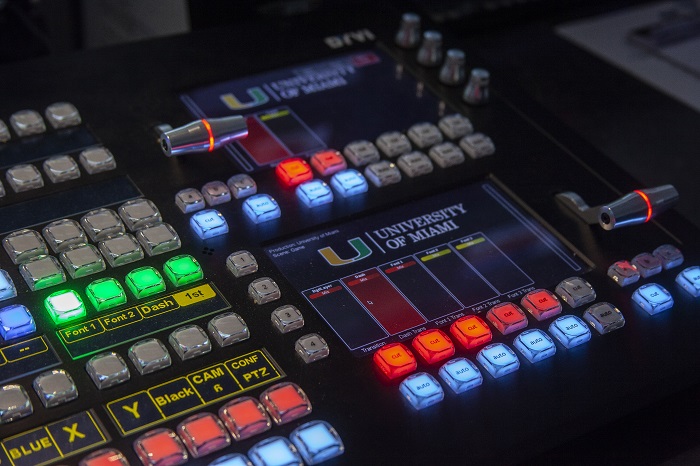 The Impact on U Miami
The most intensive systems installation and integration work took place over a five-month period, from September 1, 2018 through January 29, 2019.
Throughout the 18-month project, Midtown collaborated closely with Thomas and Listochi on every aspect of the project, conferring regularly with them about their vast options from design through installation and systems integration.
The UM production team has already produced five full UM basketball games for live broadcast on ESPN2 and ESPNU from Control Room A.
With these successful live productions, the UM production team—including students, staff and professional video freelancers—has proven its ability to deliver ESPN-compliant live shows for the ACC Network from the new facility.
U Miami sports to be featured on the ACC Network include: baseball, basketball, soccer, volleyball, tennis, and track and field.
See more pictures in the slideshow
"We knew at the start of this project that we would be asking a lot of Midtown Video," Thomas says. "It doesn't rain money here at the University of Miami, so we knew we needed to maximize our budget and equipment purchases, without compromising the production quality we're contractually obligated to provide ESPN."
"Midtown carefully considered our goals to determine precisely what we needed, and more importantly, what we didn't need, while still enabling us to produce a really solid show, cost-effectively," Thomas says.