Grandeur Housing specializes in the sale of residential ready-to-move (RTM), manufactured, and 24-foot wide homes. The company also offers commercial and industrial development options, including accommodation buildings, educational facilities, police detachments, communication buildings, offices, retail spaces and more.
The Tech Decision
Built and sold in Manitoba, Canada, Grandeur Housing homes can be completely customized in both form and function, from foundation to roof, to create a customer's desired layout and look.
Two separate ransomware events that targeted Grandeur Housing prompted the organization to seek a solution to prevent further attacks.
"Although we were able to recover the same day from both events due to our Veeam backup and replication solution, we have seen other companies around us go down for extended periods," says technology manager Charles Sloane.
Grandeur Housing wanted its host server to remain offline except during replication, with the air gap extending to the ESXi host that acts as its disaster recovery (DR) server.
Noting that these types of attacks are elevating and becoming even more malicious, "my idea was to have some sort of integrated power solution that we could set up to trigger our replication to turn on at specified time, and then turn off after the job is finished."
With its backup server replicating data every weekday evening to an ESXi host server across a wireless link, the firm wished to instigate an air gap—a security measure that keeps secure networks physically isolated from unsecured ones such as the Internet.
Grandeur Housing wanted its host server to remain offline except during replication, with the air gap extending to the ESXi host that acts as its disaster recovery (DR) server.
Related: Smart Cards Applications in IoT Security
"We were primarily looking at this solution as a way to protect the data on that server in the event of a ransomware attack that could also possibly attack our replica backups," Sloane says.
After a technology partner suggested that Eaton might offer a solution, Sloane began to investigate whether the manufacturer's Intelligent Power Manager (IPM) was capable of performing the desired air gap task.
Could Intelligent Power Manager allow Sloane to set up a scheduled air gap between production and backup servers so at least one set of servers would always remain completely clean?
The Intelligent Power Manager Solution
The goal was for the software to orchestrate the process, starting up Grandeur Housing's replica ESXi host and then shutting it down once the procedure was complete.
Acknowledging that the concept was initially just theoretical, Sloane contacted the Eaton customer support center. His initial inquiry was escalated to Jim Martin, senior applications engineer, who then worked with Sloane to flesh out the unorthodox application.
"We had to think about the process and understand what he needed to do, then determine the best strategy," Martin says. "We were able to talk through the different scenarios and connect the dots for him, ultimately determining that he could use a Managed rack power distribution unit (PDU) with IPM, rather than a traditional uninterruptible power supply (UPS)."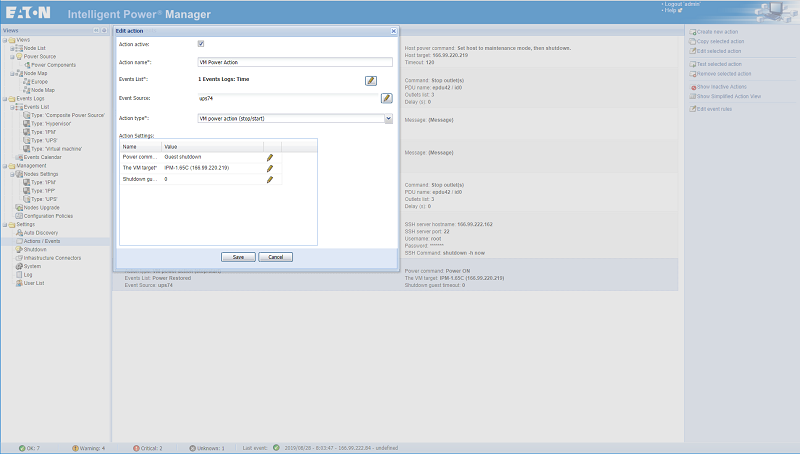 Grandeur Housing was ready to test the theory. "Jim did a demo online of the software and we came to the realization that this would most likely work," Sloane says. "So untested, we went ahead and ordered the PDU and software."
Although primarily developed to monitor and manage UPSs—as well as gracefully shut down loads during a loss of utility power, even in virtualized environments—Intelligent Power Manager has proven to be an inexpensive, highly viable air gap solution for Grandeur Housing.
"It protects us in a variety of scenarios," Sloane says. "If there's a ransomware attack or a fire, or if anything were to take out our main office site, we can replicate and have instant access to everything."
Yet another bonus has been noteworthy electric savings for Grandeur Housing, a direct result of its DR server being able to remain powered down the majority of the time.
The Eaton solution also has the ability, through its Environmental Monitoring Probe (EMP) Gen 2, to send an alert if a rack temperature or humidity level exceeds the desired norm and can even be stretched to include relay contacts connected to an open door or a water leak detector.
"It gives us an extra layer of protection and the peace of mind that we would be safe during an attack. It's a true air gap solution when it's off. If we were ever attacked during office hours—when a lot of attacks happen—our off-site replication data is protected because the server is off, so there's no opportunity for access to be gained to it," Sloane says.
"It's worked liked Intelligent Power Managerdashboard view of PDU IPM action that creates the air gap at a scheduled time clockwork. I feel very good about our setup here and that we are protected by multiple layers."
The Impact of Air Gap Cybersecurity
Deployed in May 2019, IPM and the PDU trigger specific actions on a schedule determined by Grandeur Housing.
By signaling that power is off to the receptacle that the replication server is plugged into, the server thinks there was a power outage. Intelligent Power Manager's job is to initiate the startup and shutdown sequences.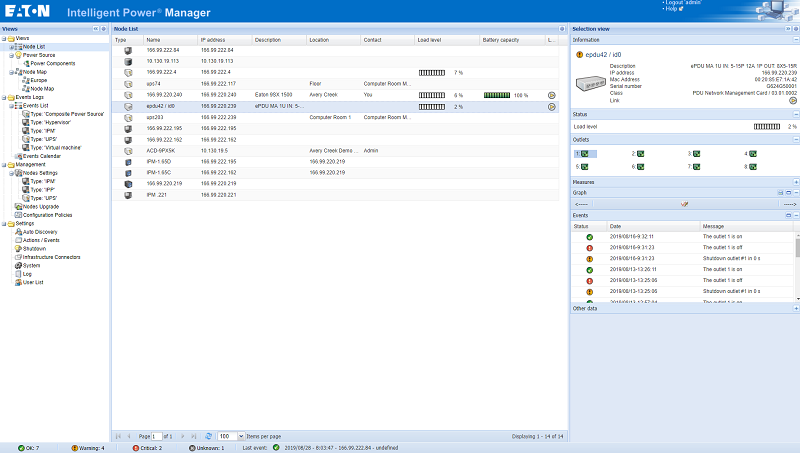 Currently, the trigger can be initiated at a particular time of day, a specific day of the week or a certain day of the month, with full calendar scheduling expected soon.
"I think this is a very appropriate use of this technology from the standpoint of protecting key infrastructure from being accessed when you don't want it to be, whether from the outside or inside the company," Sloane says.
"If you want something to be off and have automation controlling it, this is the best solution that we've found."
Thanks to the Eaton, Grandeur Housing is now free to build on its core business, rather than worry about potential ransomware attacks destroying important replica backup data.
With the IPM and PDU solution in place, the organization can:
Execute a daily air gap to help ensure business continuity and disaster recovery initiatives
Safeguard against ransomware attacks while enhancing overall cybersecurity
Start up and shut down its VM environment
Enjoy power savings resulting from its DR server being shut down much of the time
Going forward, the organization is already looking to Eaton to fulfill another need. "We are going to be replacing the existing APC UPSs in our server room and I'd like a solution that will better manage our production VMs and hosts during power events," Sloane says.
"We're so pleased with the Eaton product and Intelligent Power Manager software. It's always a challenge dealing with VMs, but Eaton integrates so nicely with VMware and provides the peace of mind knowing a graceful shutdown will occur during an extended outage."
If you enjoyed this article and want to receive more valuable industry content like this, click here to sign up for our digital newsletters!