Serving more than 8 million customers each week, Kwik Trip, a retailer well-known along the highways of Wisconsin, Minnesota, and Iowa, began executing its digital signage rollout strategy in 2018 as part of a store modernizing program, with the final installation recently completed in the city of La Crosse.
The La Crosse store includes a range of 11 attention-grabbing, feature-rich and highly reliable 43-inch, 49-inch and 55-inch Philips D-Line displays. For maximum visual impact these displays are strategically placed throughout the aisles to continually connect with customers.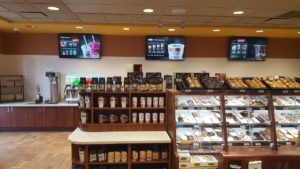 Providing an instant fresh look and feel to customers versus the previously manually manage signage and frequently disposed of printed posters used to market its products are now replaced with vibrant, colorful, ever-evolving and engaging live digital displays.  Kwik Trip is now able to engage with its customers in a modern way and keep it current by being able to make quick and simple updates.  By showcasing their hot food menu items at targeted times of the day, these displays are able to keep things relevant to customer needs.
Using Digital Touch Systems content management software, all screens across the entire Kwik Trip estate can now easily be controlled and managed entirely remotely from the corporate headquarters, allowing material to be created and delivered to all, or selected, screens with one centralized action.
Kwik Trip has seen a significant increase in hot food sales, thanks to the use of vivid food photography. This visualization helps customers see what the food looks like under the wrappers.   The use of digital signage has provided Kwik Trip with the flexibility to quickly test new products, and messaging across all stores as ways of identifying new revenue streams.
Always On Messaging
Thanks to Philips D-Line's 'FailOver' peace of mind security, ensuring no screen ever goes blank and content is continually playing, customers will always be alert and able to take advantage of the latest offers and promotions in store.
Displays have also provided Kwik Trip with substantial cost savings, estimated to be around $1.9 million, thanks to its built-in Android backed System on Chip (SoC) processing system, eliminating the need for pricey external media players.
Key factors in Kwik Trip's decision to select the Philips D-Line product were the inclusion of SoC, which enables faster and more versatile management, as well as automatic updates to ensure apps stay up to date. Also, our industry leading 3-year advance exchange warranty – entitling customers to a replacement device in the unlikely event of a fault that cannot be fixed remotely.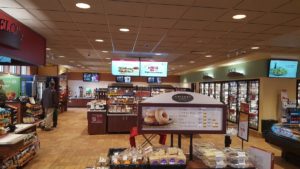 "The decision to go with PPDS came down to their System-on-Chip functionality, which led to significant cost savings over others. Also, a great (three year) warranty that helped us feel comfortable about the investment," says Mark Meisner, Director of Marketing and Advertising at Kwik Trip.
"Here at PPDS, our focus has and will always be to provide our customers with the tools they need to be the very best that they can be – whether that's in retail, hospitality, education, corporate, or healthcare among others," says Joe King, Vice President at  PPDS North America. "Working with Kwik Trip and their integration partners, we were able to fulfil their high demands with a solution designed specifically to meet their requirements and while providing them with an advanced, best in class solution, positioned them for maximum ROI and significant cost savings.
"We understand the competition in the digital signage market is high, and for us to continue to attract nationally recognized retailers like Kwik Trip speaks volumes about, not only our quality of products but our quality of service after the sale," he says.
If you enjoyed this article and want to receive more valuable industry content like this, click here to sign up for our digital newsletters!