With its ACC Network launched August 22, 2019, ESPN features live NCAA Division I sports produced by the 15 university members of the Atlantic Coast Conference (ACC). As an ACC member, the University of Miami (UM) needed to upgrade the digital video facility on its Coral Gables, Florida campus to meet or exceed ESPN's strict broadcast production standards.
The Tech Decision
As a local systems integration firm in Miami, Midtown Video has had a strong, ongoing relationship with University of Miami Athletics, having designed and built several robust, flexible, ergonomic video production facilities for them that we delivered on time and on budget.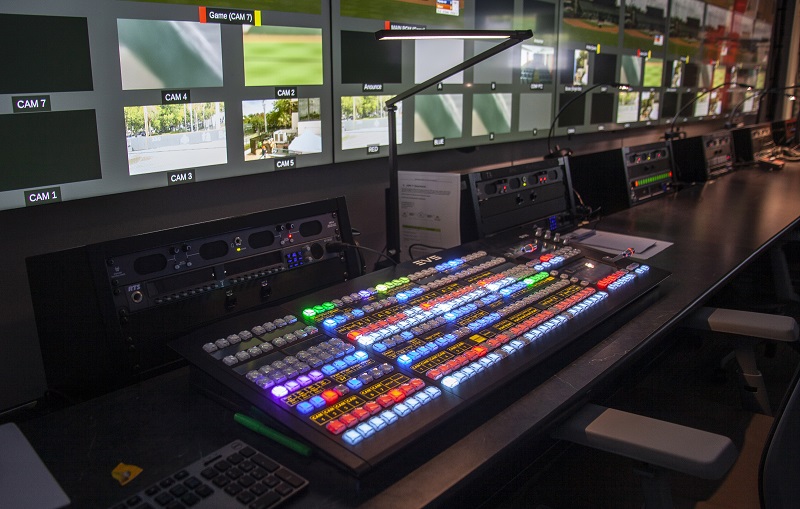 Miami wanted to maximize every dollar spent and utilize the full capabilities of every product bought and integrated. So Midtown was always mindful to hit it just right–covering their every production need without wasting money on features and capabilities they didn't really need.
The Broadcast Control Room Solution
The UM video installation featured best-in-class video systems, including an EVS DYVI production switcher, with EVS replay servers, a 14-monitor video wall, a large Evertz video router, and 13 broadcast cameras, including five new Panasonic HD studio cameras.
Broadcast Control Room A features a new software-defined EVS DYVI switcher that scales from 3 to 99 mix/effects (M/Es), enabling technical directors to deliver virtually limitless video effects and visual compositions to enhance live games.
The DYVI switcher's software architecture makes it inherently more flexible than hardware-based video switchers.
The M/Es and live broadcast graphics are typically setup in pre-production using ESPN graphical design templates.
During game times and other programming, Control Room A will be used primarily to produce live ACC Network sports programs. Attesting to the design's flexibility, if Control Room A is available, it will also be used for digital broadcasting to ESPN3, ESPN Extra and other sites.
However, when an ACC game is being produced in Control Room A, the digital broadcast streaming will be done in Broadcast Control Room. This room features one of two Panasonic AVS-6000 production switchers that UM had been using for ESPN3 and ESPN Extra streaming in recent years.
The second Panasonic switcher is now being used at The Watsco Center to produce the in-game video board show for UM basketball games.
Two EVS XT3 live production servers are rack-mounted in the machine room, and each of the control rooms has two LSM controllers to remotely control them. Slow motion replay systems that are tied to these EVS servers allow two replay operators to generate a steady stream of instant replays during the games.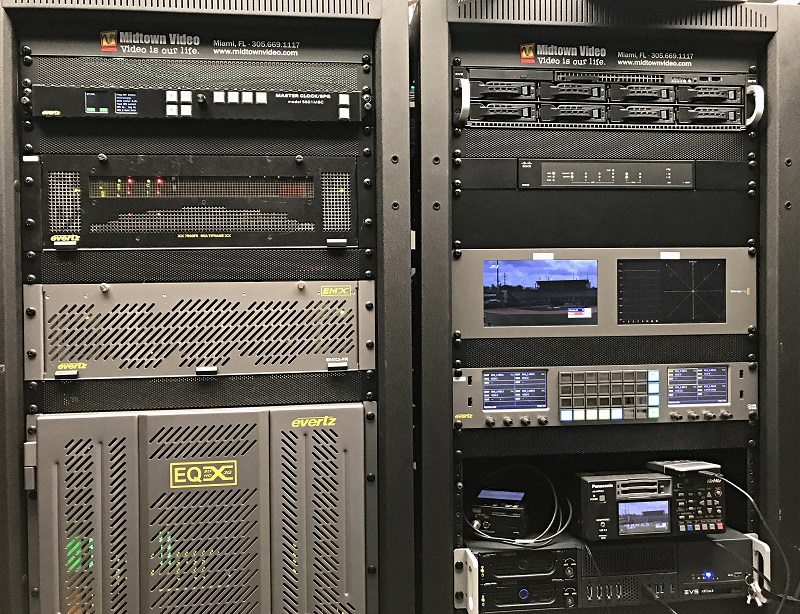 While the switcher control panels and other KVM equipment are in the control rooms, the video processing and terminal gear—including an Evertz 288 x 288 video router is rack-mounted in the machine room.
And engineers can set-up and shade the broadcast cameras—including five new Panasonic broadcast cameras—from the control room via fiber to the camera control units located in the machine room.
The Impact
"We knew at the start of this project that we would be asking a lot of Midtown Video. It doesn't rain money here at the University of Miami, so we knew we needed to maximize our budget and equipment purchases, without compromising the production quality we're contractually obligated to provide ESPN," says Drew Thomas, Director of Production Services at UM.
"Midtown carefully considered our goals to determine precisely what we needed, and more importantly, what we didn't need, while still enabling us to produce a really solid show, cost-effectively," Thomas added.
Related: Live Sports Broadcasting VR is an Example of How Virtual Reality Can Dramatically Alter an Industry
Utilizing the existing fiber network, Midtown Video enabled The Hecht Center to realize centralized production that pulled video and audio from many Miami Hurricanes sports venues including: Mark Light Field for baseball, The Watsco Center for men's and women's basketball, Cobb Stadium for soccer and track and field, The Knight Sports Complex for volleyball, and The Neil Schiff Tennis Center.
Unifying this distributed live production was a key objective of the systems integration. Besides controlling the quality of their own coverage, the University gains a higher visibility through its sports, while connecting with students, alumni, and fans nationwide.