Founded in 1822, Athens State is Alabama's oldest educational institution of higher learning. As one of only a few "upper division" universities in the entire country, Athens State is a destination for transfer students and students with more than 36 hours of credit who may have paused their education and are seeking to finish their degree. Offering over 50 undergraduate degree programs and options in addition to graduate programs, Athens State focuses on providing affordable, flexible and high-quality options for all learners.
The Tech Decision
Athens State University is one of a growing number of postsecondary institutions globally that are broadly deploying classroom audio systems to meet the needs of hybrid learning models. The right audio systems enable these institutions to continue providing a high-quality education to students by delivering advanced full-room audio coverage in classrooms and lecture halls. In-room participants can make full use of their space, and remote students can fully engage and feel like they are in the room with classmates.
Like most colleges and universities across North America and around the world, Athens State needed to work quickly to retrofit classrooms and meeting spaces for a hybrid environment that allowed in-room and remote participants to easily be seen and heard, and to share content.
Work began to add technology, such as webcams, large screen interactive displays, document cameras and audio conferencing systems – with audio being the biggest challenge. Decision makers at the university tested several systems, from inexpensive ceiling-mounted security microphones to very expensive network-based systems, and eventually decided on the Nureva system.
The Classroom Audio System Solution
The HDL300 system from Nureva was tested in the university's collaboration classroom alongside competing products, and the team was stunned by its microphone pickup and background noise reduction. Even with a loud projector fan just 12″ from where the system was installed, it produced clean, crisp, hiss-free output at the remote end.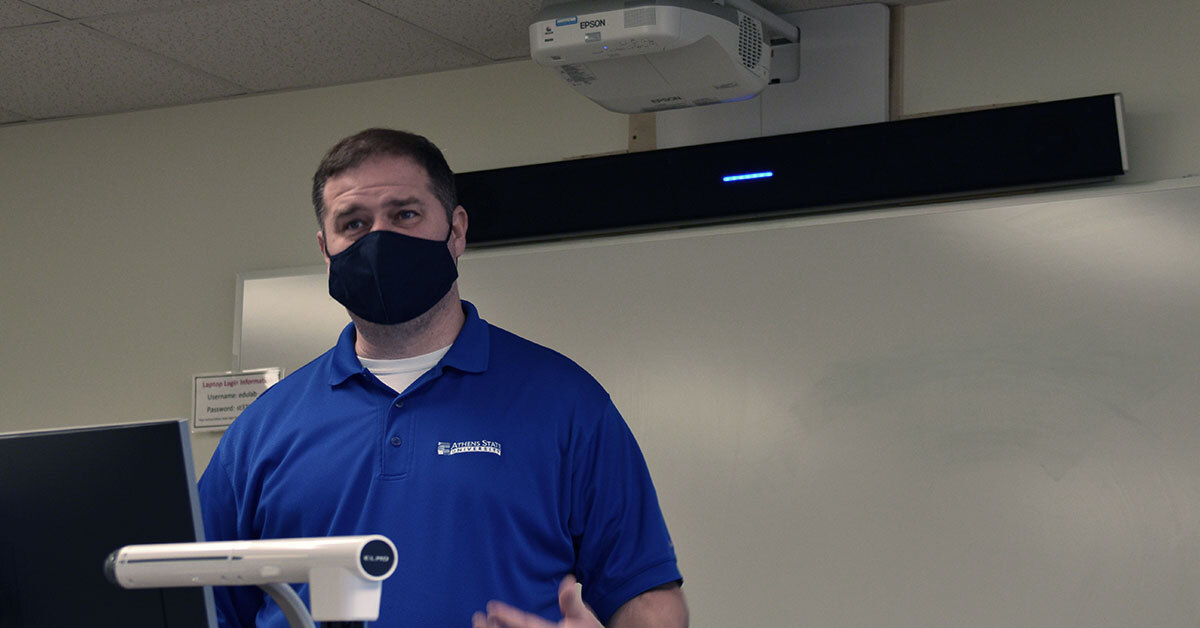 Other systems were unable to avoid picking up a loud hissing sound and background noise from the overhead fans.
Some of the other manufacturers' set ups were costly, confusing and time consuming.
Like every Nureva system, the HDL300 is powered by Microphone Mist technology, which fills a room with thousands of virtual microphones that represent individual audio pickup points.
No matter how far apart students are in the classroom or which direction they face, a virtual microphone is always close by.
Advanced processing power listens to each virtual microphone simultaneously and zeros in on the desirable sounds, optimizing them for clear conversations. Unlike other systems, the HDL300 system ignores consistent noise sources from HVAC, displays or computer fans.
For professors and lecturers, lapel and podium mics are never needed, giving them freedom from the constraints and potential complications of conventional audio-conferencing solutions.
For IT and AV support staff, the system's continuous autocalibration provides optimal performance no matter how the classroom is configured or how many times the configuration changes.
The Impact
Having adopted the HDL300 system, Athens State is now providing the full-room microphone coverage needed to meet the university's in-class physical distancing requirements while ensuring remote students can clearly and consistently hear every word and feel engaged in every class.
"Nureva's noise elimination algorithm is vastly superior to all the other products we tested – it doesn't pick up unwanted noise and voices are very clear from anywhere in the room," says David Walker, Athens State University's director, teaching and learning innovation services.
Related: Miami University's DIY Virtual Classroom Tech is Impressive
"The HDL300 is the only classroom audio system we've found that virtually eliminates processing and background fan noise. Other systems we tested also took all day to set up and required the purchase of additional equipment. But Nureva's HDL300 system came with everything we needed, and the set up was just 20 minutes." "
"We are thrilled that our HDL300 systems are helping remote students at Athens State University receive the same quality of education as the in-classroom students receive," says Nancy Knowlton, Nureva's CEO. "Knowing that Nureva audio systems were tested against, and clearly surpassed, competitive products continues to validate the unique and unparalleled nature of Microphone Mist technology."
If you enjoyed this article and want to receive more valuable industry content like this, click here to sign up for our digital newsletters!