We're going to pull back the curtain for a moment: our sister site, Commercial Integrator (which is aimed at the technology installers you seek for new systems), often talks to its integrator audience about how they're being entirely too technical when they talk to you, their tech decision-making clientele.
They use words which are supremely technical, and often try to upsell you on the tech specs. And, for some of you, that might be fine.
Maybe you have a very nuanced understanding of how that teleconferencing system works or why a 1.2 mm pixel pitch really is better for your campus' lobby.
But we suspect — as evidenced by some of the stories we've heard from those integrators — that, for many of you, there's this wish that integrators would be more concerned about what the technology can do for your specific need and what ROI you can prove to your bosses after you make such large investments in tech.
Related: These Are the Audio Visual Acronyms Tech Managers Should Commit to Memory

Well, if the installer is worth their salt, they'll focus on that, anyway… but even then, sometimes there's the problem of two people speaking somewhat different languages. They're focused on audio visual & collaboration technology; you're focused on what effect those systems have on your network.
What do those phrases mean on AV installer websites?
A smart integrator will utilize language on their website which balances the right terminology with what many people in IT actually refer to the systems as.
For example, collaboration is referred to in many ways by integrators on their websites.
But, ultimately, if you were to turn to Google to find an installer who could offer you solutions for video calls, conferencing, and conference calls, you'd be better off searching for "collaboration technology" or "unified communications" solutions.
That's what integrators refer to these technologies as on their websites… even though — as you can see in the Google search graph below — that's not necessarily what end users are searching for to find them.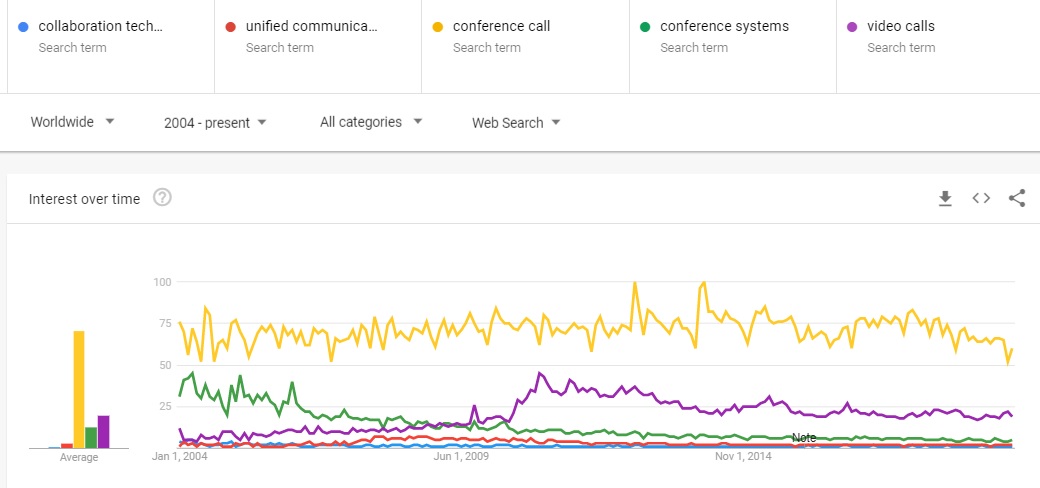 You may very well use the same terms integrators do, but if they're seeking business from IT decision makers, you'd think they would also use the terminology which might be more prominent in the IT sphere.
You may very well use the term "video conferencing" to describe "video calls…" but the latter term is rarely found on installer websites, even though more people are searching for it over "video conferencing."
Your in-person conversations should always focus on your specific needs
If you're ever having a discussion with an installer and they seem to focus too much on very technical aspects of a proposed job, it's important to step back and reiterate just what your goals are for the technology, your concerns about it if the proposed solution lives on your network, and ultimately the ROI your org will gain from purchasing it.
While we're sure you want to stay at the forefront of your company's tech investments and understand how it works, there's also something to be said for an installer who prioritizes ROI based on how a solution will solve a specific problem in an experiential way, rather than with boosted tech specs.
You should always demand that kind of problem-solver when dealing with systems designers and AV installers.
If you enjoyed this article and want to receive more valuable industry content like this, click here to sign up for our digital newsletters!