Make Your Technology RFPs Consistent for Better Cost Comparisons
You're planning to buy security, IT, communications, audio or video solutions. The project is something you need as your business expands or to improve those necessary tasks everyone has. You want the solution to last and to be worth the money.
Cover all your bases by downloading and following the "Technology RFP (Request for Proposal) Checklist." Following a structured procedure for all your RFPs makes it easier to compare installers and get a buy-in from all parties to ensure a smooth transition.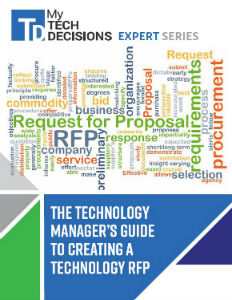 This new guide will show you how to structure your RFP so you get the maximum return on investment for your budget.
The Technology Manager's Guide to Creating a Technology RFP.
Learn the:
Two main groups you need to talk to in your company before you start getting quotes.
Three main project areas to address when you speak with installers, including specific questions to ask
Process for choosing — and eliminating — installers
Consistency in your RFPs makes it easier to compare bids as each installer works from the same information.
Click Here to Download Your Free Checklist Now.